5 Gifts to Grow Employee Engagement and Retention
When an employee leaves your organization the effect of that event reverberates across many departments. Some of the most common results are a loss of productivity and resources as well as a negative impact on morale.
Morale also takes a hit when the staff that are still in office are forced to take on most of the tasks of those that left either permanently or for a brief period while HR searches for the next person to fill those shoes. It is during this stressful period where we fall into our own silos and rely on unconscious bias as that is our default safety zone.
This results in a lack of appreciation which then hurts engagement and retention all over again. Remember all these crucial steps are cyclical. Employee engagement and retention are critical for companies to stay competitive. The key is mastering a growth mindset.
The impact of employee engagement on employee retention is massive. Engaged employees are more likely to remain at your company, and contribute to a stronger company culture. But what are some tangible steps you can take to ensure employees stay engaged and stick around for many years.
1). Create a Positive Work Culture: 88% of employees believe a distinct workplace culture is important to business success. (Source)
2). Provide Valuable Coaching and Training: It is important to create a culture that fosters continuous development. Not only does this help workers improve the skills needed to do their jobs, but it also communicates to your employees that you are invested in their future.
3). COMMUNICATE: It should be a priority to give individual attention to each team member through regular meetings and feedback. In addition to providing feedback as a manager, it should also be encouraged for employees to provide feedback of their own.
4). Recognize and Celebrate Success: Managers need to praise their employees publicly and verbally for a job well done and organizations need to celebrate these successes.
If you are looking for tangible gifts to celebrate the successes big and small your team has been a part of and Grow Your Engagement, see our Top 5 gifts:
1). Appreciation Plant Cube - Your Commitment & Dedication
Planting the seeds of gratitude has never been easier with the Appreciation Plant Cube. This flowering, daily reminder of thanks will grow your staff's dedication to towering, new heights.
2). Value Wheat Harvest Journal & Pen Set - Make A Difference
Keep it (eco) friendly with this junior-size spiral notebook with a wheat/straw composite cover! Featuring an exclusive Baudville saying, it's sure to make them take note of your appreciation.
3). Together We Can Gift Set
Good vibes are needed! We're all in this together and sometimes we just need to be reminded of that. Give your team some weekday encouragement
4). Delightly: You're Out of This World Kit
Celebrate the good people with this curated kit! With a secret message in the color-changing mug, a bundle of sweet treats, and a book full of inspiration, this is a ready-to-gift hit!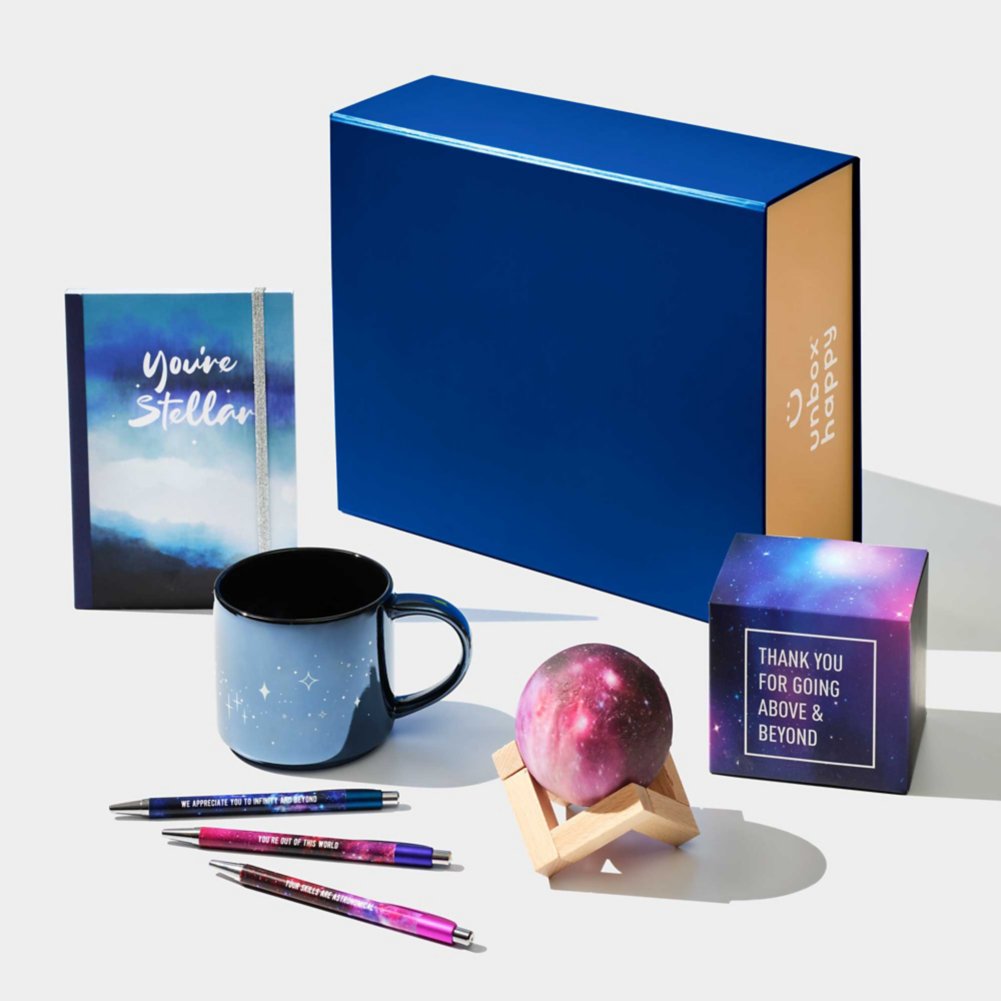 5). Custom: Bamboo Sound Machine
The Bamboo Sound Machine is our new and easy-to-use wellness device. It provides six types of sounds to help busy business professionals find calm during or after a day at home or office.
There are quite a few different employee engagement strategies that you can employ in your business. Pick the ones you think will work best for what your culture represents. Your employees spend a lot of time at work, even when they have a good work-life balance. By following these processes you can improve engagement levels and retention with the ultimate goal of having better-engaged employees.
If you are looking for more great reading to help you in your journey for larger engagement and higher retention rates check out our favorites below:
Interested in chatting with your rep? Find your account manager here - and they'll touch base with you to find a good time to discuss your vision!
We've had the privilege of working with some amazing organizations to develop a branded, special experience for their team. We appreciate their trust in finding the perfect fit, and we're so excited to highlight how they turned out!
Whether you're just dipping your toe into the custom experience, or you're an old hand at it, we know that together we can pair up to make an amazing impact for you and your organization!
Want more content like this? Subscribe to our emails!