In the beginning of 2015, we made six "Human Resource Resolutions" to increase employee engagement, build stronger teams, celebrate everyone, work on event participation and planning, recruit top talent, and reduce employee turnover. If you missed it, we took a deep-dive into what matters in key areas to jumpstart your new year in the workplace from an HR standpoint. Time flies! Now that we're already a week in to 2016, it's likely that you've made some resolutions for this year, too! And, if you haven't, we'd encourage the resolutions above, or a simpler, broader, resolution: a Recognition Resolution!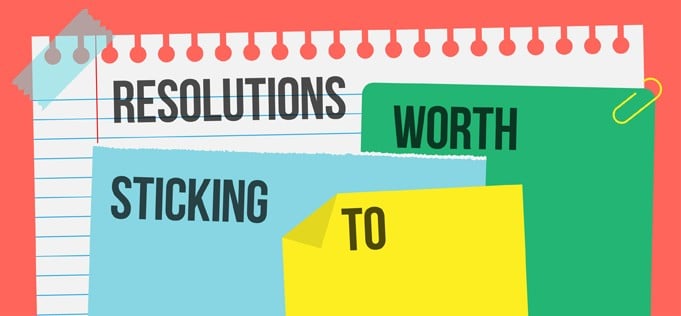 What's a recognition resolution, you ask? It's a commitment to making recognition a normal part of your workplace. Big or small, recognition counts (it impacts your business more than you think!) And doing your due diligence in the recognition department can really pay off!
Sometimes things can get in the way, there's not a budget, or it simply isn't an integral part of your workplace… But 2016 is a perfect fresh-start opportunity to make small changes towards your recognition efforts and create a happier, more engaged team. Whether you're just starting out, or revamping your current recognition program, we've come up with 5 tips below to help you stick to your recognition efforts in 2016:
1. Make a plan. "By failing to prepare, you are preparing to fail." Benjamin Franklin got many things right, and this is one of them! We've put together a guide to help you design and plan your recognition program from scratch to finish. You can download that here.
2. Get ideas from your team. Use your team as a resource to decide what works best for you all! This can aid in participation, enthusiasm, and morale. Who wouldn't want to be a part of creating a rocking program? In this eBook, we've got your back with ideas on how to get your team involved.
3. Stock up. On ideas, recognition supplies, and the basics. While ideas from your team are important, it's also ideal to come up with your own ideas to keep the pool flowing. Need help with ideas? We've got recognition ideas from budget to elaborate here.
4. Create a culture for recognition. Creating a positive culture where you can work, innovate, and collaborate makes for a perfect recognition environment. With 52 unique positive culture ideas in this eBook, you can try one every week of the year!
5. Have fun with it. This should be fun! Work a little and play a lot with your recognition program, and you'll see great results. In this eBook, we've got 52 ideas for you to just have FUN and share FUN at work!
Have any questions? Leave them in the comment section below! Happy Recognizing!
---
Kaleigh joined Baudville in 2015 as the Digital Marketing Coordinator. She's got a love for all things content, knack for all things wordy, and a passion for web marketing. With her eCommerce background, she wants to be sure to make your web experience more than great.