Award season is upon us! November, December, and January are popular months for year end award ceremonies and events. At Baudville, we're already excited for our Year End Party in mid-December. The entire team gets together at a Grand Rapids venue for dinner, awards, and an activity. It's the event of the year for our company!
How does your organization celebrate the end of the year? Do you have lunch catered in your office or take the entire team out? Do you have a formal award ceremony or casually share the successes and achievements from the year?
However you celebrate the end of 2011, you want to be prepared! We have lots of content and several resources to help you get ready for your big event:
 Year End Awards and Events Webisode – Join our recognition experts for a 15 minute live video webisode (like a webinar, but way more exciting!) on Thursday, November 17. We'll share tips and tricks from our year end event experiences.
 Engrave and Ship Same Day Trophies! Make sure your awards arrive on time! Our trophies and awards engrave and ship same day, so you're sure to have them on time.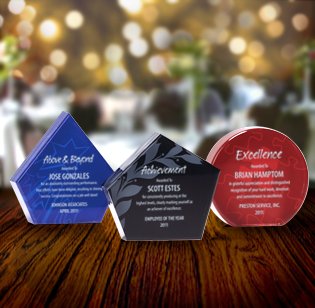  Award Presentation Guide - The most important part of an award presentation is the speech you deliver. In a few minutes, you need to convey the value of the award and the worthiness of the recipient. Complete this guide to ensure you don't miss any important award presentation details!
 Employee Event Planning Checklist - We know that employee events can significantly add to an organization's culture, morale and engagement. We also know that event planning is a very detail-oriented undertaking. To keep your planning on track and make sure you have a fantastic event, we've put together this helpful checklist.
 Recognition at Work Blog – Our blog already has a robust section on award ceremonies. Read through past articles for lots of handy tips and ideas to make this year's award ceremony extra special!
Do you need help with your year end awards and events? Ask your questions here!


-----------------------
Cori is Baudville's in-house Recognitionista (she's officially a Certified Recognition Professional, too) and a member of the Millennial generation. Get her employee recognition tips and special discounts by liking Baudville on Facebook.