Keep the flame of love (team love, that is) burning bright long after their first days on the job! Show your hardworking people how much you care about them with tastefully heartfelt sentiment and totes appropes gifts! Our Baudville "Recognistas" have identified 6 great ways to make your team-love known. Adopt a few or be an over-achiever and incorporate all 6 into your recognition program!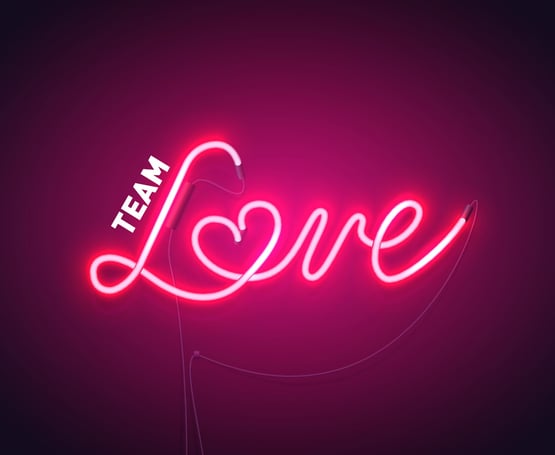 Get to Know Them: There's a fine line between showing an interest in an employee's life and prying into their personal business. While it's a delicate balance to strike, it's important that you make an effort to know simple details about their lives. Caring about personal deets like their significant other's and/or children's names, and their general interests or hobbies is a great place to start! Showing an appropriate level of interest in their lives can help them feel more connected to your organization!
Be Flexible: One of the best ways a leader can love on their team is to be flexible when personal conflicts and obligations arise. Be understanding when health care appointments may conflict with work hours and offer work from home options if needed and available. Making your people's schedules (and lives) a little easier can help alleviate unneeded stress and fill them with warm fuzzies for your organization!
Be Positive: When you're in the thick of deadline season and projects are undergoing multiple rounds of revisions, it can become easy to forget to give positive feedback. Be sure to give on-the-spot recognition to team members when you see excellent work!
Treat Them: Nothing says, "I appreciate you" like a dozen donuts from everyone's favorite bakery or a midday burrito run compliments of the boss. Hungry stomachs have a way of flocking around free food in the office and edible gifts have a way of fostering good convo and team mojo.
Celebrate Life Events: Caring about your people requires attention to detail! Don't let an exciting life event of your employee pass you by. Keep a list of work anniversaries and birthdays on file and be sure to schedule time to celebrate new babies, upcoming nuptials, and graduations!
Listen Well: Management isn't for wussies. It's not enough to cross your fingers, close your eyes and just hope that no issues arise on your team. Take notice when disengagement and tension are on the rise and listen when questions and concerns are voiced. Not unlike any other significant relationship in your life, active listening shows the other person that you genuinely care about resolving the issue at hand.
Infuse a little extra team-love in your daily routine with these tips and watch overall office mojo soar!