Getting employee recognition started in your organization or team doesn't have to be rocket science. Managers can choose a recognition theme, select coordinating tools and have a program up and running before you can say aeronautics. To start an employee recognition program for your team, follow these six easy steps:
Step 1: Choose a recognition theme. Use your team goals as a guide to select the right recognition theme. Because your team is evaluated on successfully achieving its goals, you'll want to give recognition that reinforces goal-driven behaviors. Recognition themes focus on positive attitudes, excellent performance, teamwork, outstanding customer service and many more. Browse all 100+ options at the Baudville website.
Step 2: Get the right tools. Once you've found the recognition theme that's right for your team, select your tools. This is where the recognition theme really comes in handy! The coordinating themed recognition tools, like note cards and lapel pins, serve as additional reinforcement for the recipient and make it more likely that he will repeat the behavior in the future. To find the right tools for you, take our Recognition Tool Finder quiz.
Step 3: Communicate and communicate some more! You can never over-communicate when it comes to your employee recognition program. First, introduce how the recognition program will work and how employees can earn recognition. Next, introduce your recognition theme and explain how it ties to team goals. Make the case for recognition – that it will improve morale and performance – and everyone will become a fan of the new program.
Step 4: Tune into awesomeness. Now is the fun part! Keep your eyes open for employee behaviors and attitudes that deserve recognition – and give it to them! Employee recognition is most effective when it is given immediately after the behavior takes place and includes a hand written note. Enjoy giving recognition to your team and watch how the attitudes and results improve!
Step 5: Observe your program. As you put your employee recognition program into practice, observe how employees respond and ask for their feedback. For your program to have a long-term impact on employee morale and performance, you will have to make changes and adjustments. After a few months, you may want to use a new recognition theme and focus on different objectives.
Step 6: Celebrate! As employee morale and performances improve, take time to celebrate as a team. Give special recognition to your stars and congratulate the team on meeting goals and milestones. Recognize the benefits the employee recognition program has had on your organization and be on the lookout to practice more recognition!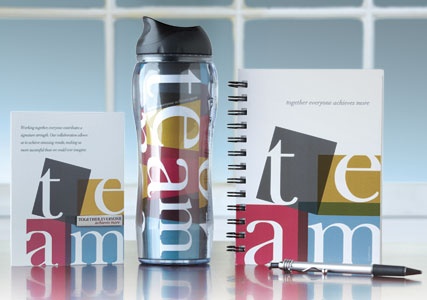 Our new Together Everyone Achieves More Theme is great for recognizing teamwork.