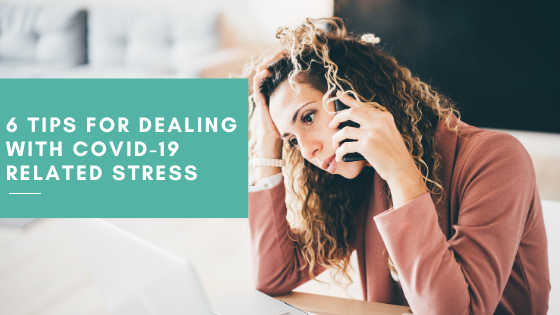 6 Tips for Dealing With COVID-19 Related Stress
It goes without saying that with everything going on in the world right now, a lot of stress comes with it. I know that I've felt anxious about the uncertainty that COVID-19 brings, and it's okay if you have too. Whether you're worrying about job stability, getting used to a new work from home routine, the well-being of yourself and loved ones, or the uncertainty of the future and when life will go back to normal, there are a few things you should know. First, you're not alone! Seriously, everyone on Earth is going through this together, and this is new territory for all of us. Your stress is valid and understood by millions. Second, you can combat your stress! There are so many ways that you can overcome the anxiety that has come with this pandemic, and we've got six simple tips to help you do just that.
1. Take time away from the news
This is something I have to remind myself of day after day. I have struggled with finding the balance between staying informed on the state of the world and not overwhelming myself with bad news followed by more bad news. I found a limit that works for me – 30 minutes in the evening to watch the daily news. This way, I get a quick catch-up without the stress of COVID-19's impact always at the forefront of my mind. Find a balance that works for you, and you'll be surprised how much lighter you'll feel.
2. Take care of yourself
This might look different for everyone, but it's so important to take care of both your mind and body during these times. For me, that means taking my dog on a walk every day to make sure I get my body moving, meditating for 15 minutes before bed every night, and paying attention to what I eat (the struggle to not eat cookies all day every day is REAL). Not only will paying extra attention to these things help with your stress levels, but it is also helping to keep you from getting sick.
3. Connect with people
Social distancing doesn't mean you need to drop all connections with the people in your life! Make up for the lack of in-person connections by connecting online with your friends and family. Take this time to reach out to that friend you've had to reschedule catch-up calls with again and again. Schedule virtual happy hours or game nights. There are so many ways for us to stay in touch with the people in our lives, and right now it's more important than ever to maintain human to human connections – even though it has to be done online.
4. Do your part
We can't control what other people are doing, and we can't control the craziness that comes with this scary virus. What we can control, though, are our own actions to prevent the spread in efforts to get life back to normal ASAP. Follow government guidelines to keep yourself and others safe during these times and encourage those around you to do the same.
5. Take a break
Don't put so much pressure on yourself to be the most productive person in the world right now! It's okay to take this time and unwind while you can – you don't want to look back on these times once things go back to normal and wish you allowed yourself to reset and relax. Pick a Netflix or movie series to binge-watch. Read as many books as possible. Maintain a healthy sleep schedule. Allow yourself to be lazy! Do something mindless every day that allows you to unwind and relax. You won't regret it!
6. Maintain a routine
Nothing is normal right now, I know. It took me a few weeks to figure out what "normal" was going to look like during these times. But the best thing I did for myself was make a new routine that I stick to every day. It has allowed me to feel less like a fish out of water and has put me in control over not only my day but my stress levels. This will look different for everyone but try to establish some sense of "new normalcy" right now.
For more #makingworkhappy tips and WFH tips during these times, follow the Baudville Blog!