So, I didn't want to be the one to say it, but my new coworker is a jerk. She totally disregards productivity, always tries to get me to go outside, and is the LOUDEST cruncher you've ever met.
Don't judge me, but I took a secret photo of her the other day...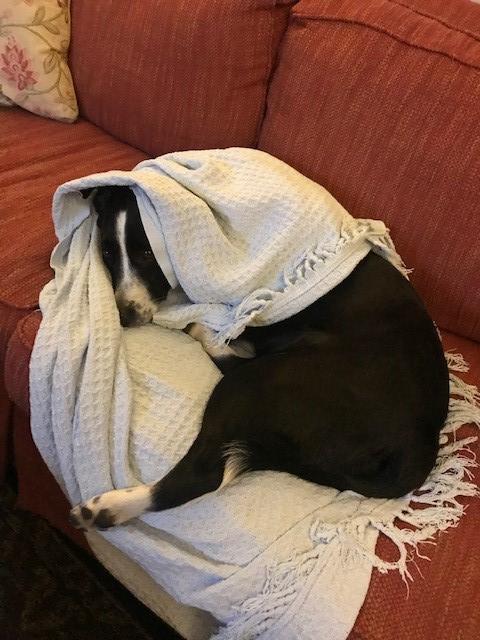 THIS IS WHAT I HAVE TO DEAL WITH EVERY DAY, PEOPLE.
All jokes aside, it turns out that working from home is actually a lot of...work! From new coworkers to new spaces, there are a lot of added hiccups that can come from moving your office to your home, and where it tends to all come crashing down is during your daily (multiple!) video calls.
Here are our top 6 tips on how to have the most successful video call in a time when it's our primary form of face-to-face communication.
Top 6 Tips On How to Have a Successful Video Call
1. Shut the front door.
Just Kidding, but only because you should already be doing that. Create a space where you can physically shut yourself off from the people you share your space with. No judgement on if they have 4 legs or 2...
2. R-E-S-P-E-C-T
It's VERY tempting to multitask when you're on a video call. After all, they can't see your bottom half/computer screen. But, it's going to be a more effective (and hopefully, shorter!) call if you can focus as much as if it was an in-person meeting.
#WorkFromHome Expectation Vs. Reality
3. Blurred Lines
Most programs have a feature that allow you to blur out the screen behind you, or substitute in a new one. Sometimes this can be cheesy, but if your home tidiness is the equivalent of my mental state..it's a little bit messy. Keep your distraction level down with a blurred background.
Want something a little more unique? Check out these free virtual backgrounds that you can upload to your platform for a bit of fun. (And if you need a how-to on the upload process, check this out!)
Looking to take your backgrounds to the next level? After work ends (of course) you can join a contest for DIY Zoom backgrounds! Check it out here.
4. Ice, ice baby.
Crrrrack! That's not the sound of your back after working at your child's too small desk all day, that's the sound of ice breaking!
Seriously, the minute we're on camera we tend to get W E I R D. So take away the awkward by coming up with a few questions/lead ins to make your meeting go as smoothly as possible.
What's the song that's been stuck in your head lately?
What's the weirdest thing you've done (or eaten!) during quarantine?
What day is it?
If you need some extra ideas, you can check out our free download! Play the games as virtual ice breakers and warm your team up!
5. Shake It Off
As the great Taylor Swift once told us in the year 2014: shake it off. In all likelihood, there's going to be some kind of technical mistake that happens during a call. Whether you forgot to close your tab on how to make bathtub gin before you screen-shared or you didn't mute yourself when you asked your daughter if she pooped her pants. Try not to take it too seriously - we're all in the same boat!
6. Signed, Sealed, Delivered.
Exiting a meeting usually involves a physical relocation, building in the natural antidote to the awkward transition. But when you're parked in your "home office" (aka: the couch) and you don't have your typical schedule, wrapping up can get weird. Below are some of our new favorite ways to say sayonara when you reach the end of a video call (these also work if you're talking to your grandma).
I have to go work on my puzzle now - I'm almost done with the border!
Thanks for taking time out of your day to work through this with me - let me know if there's anything else you need!
Thanks for staying connected even when we are so far apart! I appreciate you and your commitment!
Thanks for meeting with me, Ted! Next time, can you put some pants on?

Looking for more ways to keep your pants on (so to speak) during the boom of work from home? We've got you covered. Check out some additional tips and tricks right here!