What makes a great leader? Think on that for a minute.
Is it someone who is strong? A "natural"? Good at public speaking? Outspoken? Good with conflict management?
There are a lot of different ideas floating around about what makes a great leader. And really, most are subjective.
Dictionary.com defines a leader as "a person who rules, guides, or inspires others; head."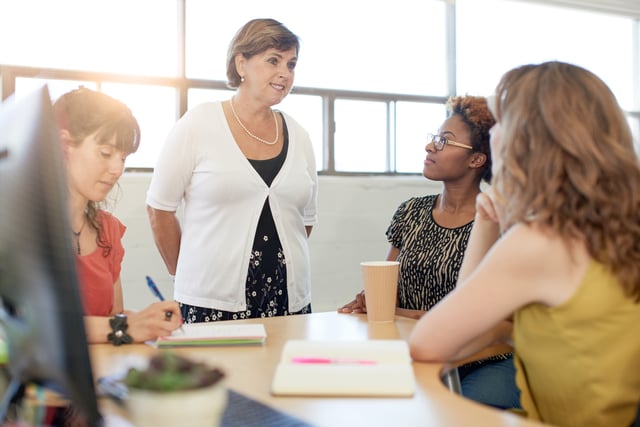 So, we're taking the word INSPIRED and breaking it down with seven characteristics of great leaders—i.e. those who inspire those they lead by setting a good example and being cheerleaders of their employees' personal life events and professional goals and milestones.
As you know, we're all about inspiration at work here at the 'ville, so this list is inspired by what our leaders exemplify and expect of us.
I. Integrity
Leaders hold themselves and their work to the highest ethical standards. They invest in their relationships, always treating customers, clients, vendors, and employees with respect, honor, and grace. They're consistent and earn the trust and respect of their employees through doing the right things for the right reasons, regardless of the circumstances.
N. Nurture
Leaders encourage employee growth at all levels. By providing an environment that empowers and facilitates continued growth, leaders learn from their employees just as much as employees learn from them. Leaders also make sure their employees know what's expected of them and assist as needed to accomplish objectives. They don't give them a project and then leave them high and dry; rather, they always have their door open to engage, dialogue, and collaborate with employees to help them develop their distinct personalities, motivations, and talents.
S. Share
Leaders share the company's success with others. Out of growth and profit comes opportunity for all involved: employees, customers, and the community at large. When leaders win, they know that they win as a team. But, sharing doesn't just include earnings; it also means giving of themselves—offering their knowledge, time, advise, and more. Sharing these invaluable lessons with employees is so important in developing them to one day become leaders of a new generation.
P. Perform
Leaders became leaders for a reason! And perhaps the biggest reason is because they give their absolute best. Through exceptional talent, hard work, and innate motivation (or drive, as we call it—but more on that later), leaders have accomplished their goals and worked their way to the top. Sometimes, though, leaders aren't always the ones who are the most talented; rather, they have the right combination of skills, strengths, know-how, and resources to get where they want to go. They've found their capabilities and know how to produce their best work and motivate performance of their employees.
I. Innovate
Leaders continuously ideate, invent, and bring new solutions to fruition. They always have an eye on the horizon, looking to the future with fresh ideas, high goals, and the expectation to exceed them. They're not afraid to try new things and encourage creativity within their company culture. In doing so, they inspire innovation in their employees.
R. Respond
Leaders respond to their employees with flexibility and respect. They treat them the way they prefer to be treated, and offer constructive criticism and feedback. They're confident under pressure, thinking and processing before acting.
E. Excel
Leaders excel in everything they do. Excellence is built into their DNA, and they never settle for "good enough." As Joe Perez, cofounder of the global entertainment company Tastemade, puts it, "No matter how successful your business might become, you are never satisfied and constantly push to do something bigger, better, and greater. You lead by example not because you feel like it's what you should do, but because it is your way of life."
D. Drive
Intrinsically interwoven into the fiber of their being, leaders are driven to be the best. They passionately and wholeheartedly seek to achieve—and exceed—their goals and objectives, and it shows in their day-to-day approach to business.
Be Boss-tastic!
Whether you're new to the management scene or are at the top of the ladder as CEO, you've got what it takes to be boss-tastic! Keep these INSPIRED tips handy and be sure to check out our NEW products to WOW your team members this Employee Appreciation Day (March 2)!