In the last couple of months, we've talked a lot about retirement. It was a topic of conversation in our booth at this year's SHRM Annual Conference and Exposition and it has also come up as a workplace event our customers want to hear more about. Enter the concept of a Lifetime Achievement Award!
Public figures and private-sector individuals receive Lifetime Achievement Awards to honor their contributions to their fields or to society/humanity at large. Their work spans a great number of years and an abundance of different endeavors. Sounds kind of like the lifetime of experience your retiree has (and has shared eagerly), doesn't it?
If you're wondering how best to honor a retiree at your company, consider hosting a lifetime achievement celebration. Here are some tips:
Focus on scope. You'll probably need some intel from family members or past colleagues, but the goal here is to cover your retiree's career milestones, whether they occurred at your organization, in the academic world, or in the community. As you detail these proud moments, you'll be sharing with everyone the path that led to this important day.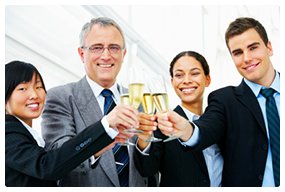 Emphasize the influence. As you talk about their achievements, make a connection between them and how they positively affected your company. Maybe it was a fresh perspective brought to the business, or a past experience that helped mentor one of your younger colleagues.
Walk down memory lane. We all love looking at old photos and marveling at the change in styles over the span of several decades—think: big hair and shoulder pads or questionable facial hair and dodgy leisure suits! Try to gather a variety of photos for either a slideshow or to post on a bulletin board. Showing that progression is a great way to underscore the growth and maturation that your retiree has experienced over the years, in more ways than just taste in clothing! While you're reminiscing, don't forget to take photos of the celebration that's happening right now. Those mementos will matter even more!
Give a lasting keepsake. A lifetime of achievements merits an equally impressive award. At Baudville, we not only have an incredible selection of trophies, we also have an assortment of thoughtful, pre-written verses that give you the perfect words for such a momentous occasion. My two favorite picks for a Lifetime Achievement Award are our World of Difference Elite Time to Shine Trophy, which features elegant art glass wrapped in hand-crafted metal (it has a "wow" factor for sure) or any of our Crystalline Tower Trophies, which perfectly highlight the message of your choice.
If you're planning for retirement celebrations (you know, in the next few years, Baby Boomers will be exiting the workplace in swarms…) consider giving them a Lifetime Achievement theme to make the occasions extra special!
--------------------------
Allison is currently living out the elaborate fantasy she described to her now-former staff and colleagues in early 2001. With a hearty dose of courage and absolutely no plan of action, she abruptly left her middle-management job to become a writer—and today she is doing just that in her role as Baudville's Senior Content Writer. She's here to tell you everything she's learned in her 20-years+ professional life, plus a lot more. She's wordy like that!