Thanks to everyone who attended our live video webisode this morning! If you weren't able to attend, you can view the recorded version in the Recognition TV section of our website or on our Facebook page.
I shared some appreciation event ideas today, and I focused on four key event elements: theme, communication, activities and games and gifts and food. By examining each of these elements and making sure they work together, you can put on a successful appreciation event that is truly memorable for your attendees.
Theme
Everything about your event starts with the theme. A theme provides consistent messaging for everything you do, and it serves as a guideline for planning. As you confirm the other elements of your event, you should ask yourself: Does this support or confuse our event's message?
At Baudville, we use themes for most of our events. One year for Customer Service Week, our theme was Red Carpet Service. We literally rolled out the red carpet for our employees! All of the activities and gifts throughout the week were connected to the red carpet theme.
Not only does a theme make your planning easier, but it also makes your event more successful and memorable. When all of the elements of your event work together, it will be a more attendees are more likely to remember your event.
Communication
One of my favorite topics! (next to recognition, of course.) When it comes to creating a memorable appreciation event, the most important factor isn't where it's held or how formal it is. It's how big of a deal you make it, and that's all done through communication.
Continue your theme onto all of your communication pieces, and you should have a lot! You'll need to use several different communication techniques and media. For instance, your younger workers may be satisfied with an email about the event, but a Baby Boomer will likely want a tangible invitation they can hold in their hands.
Start communicating early! The more time you have, the more anticipation and excitement you can build with your messaging. Make sure you cover the essentials, like time, place and proper attire (and footwear), but don't give everything away! Having a few secrets will keep interest in your event high.
A few of my favorite communication ideas:
- Post fliers on car windshields
- Create a poster campaign
- Have information posted inside bathroom stalls
- Use post event communication, like a newsletter or intranet
Activities & Games
At Baudville, our activities is the memorable part of our appreciation events. Employees continue to talk about great activities that took place at our appreciation events for years! Including an activity or a game as part of your event will allow for team bonding and provide a nice change of pace.
Some of our most popular events have been a paper airplane contest, office winter Olympics and a photo shoot. Each of these was connected with the theme of the event, and they were supported by themed communication. To see pictures and video from our office winter Olympics, visit our Facebook page.
Gifts & Food
The gifts can be one of the most important elements of your event because it serves as a souvenir for attendees. Make sure your gift reflects your theme, so your appreciation event attendees remember the key messages (hint: one of them should be "you are appreciated").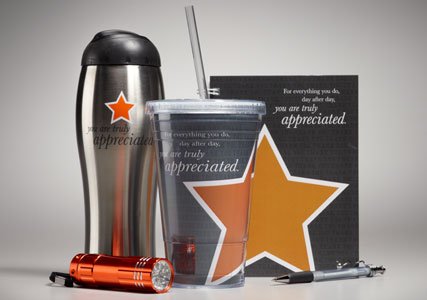 Your takeaway gift should be something attendees can use, like the notepad or memo clips I showed in the presentation today. A personalized gift, with the attendees name or the date and theme of the event, provides a special touch. When you're planning more formal appreciation events or want to make a big impression, consider making personalized gifts.
A few weeks ago, I wrote about a great appreciation event example from one of our customers who used the Essential Piece theme for her volunteer appreciation event. I mentioned it again in the webisode today when I was talking about gifts. You can read all about the event here.
Food is one of the most popular rewards around Baudville! For food to make an event special, it needs to be something that attendees don't have all the time. When we've celebrated our award as a West Michgian 101 Best and Brightest Company to Work For, we've treated our employees to the decadent desserts (a la mode) from the Grand Traverse Pie Company. Employees have the chance to socialize while they enjoy their special treat. This is always a popular (and easy!) appreciation event!
Thanks for being a part of this month's Recognition TV webisode! Join us on June 24 for our next webisode when we talk about how to make your employees' day!
-------------------------
Cori is Baudville's in-house Recognitionista (officially, she's a Certified Recognition Professional, too) and a member of the Millennial generation. Get her employee recognition tips and special discounts by liking Baudville on Facebook.