Well Race day came and went and it was a beautiful day for a run! Historically held on a rainy, cold and dreary day, runners were pleasantly surprised with sunshine. I, personally, was extremely thankful for that.
The Baudville Team did great, clocking a total of 220K in the race! We are so proud of all of our team not only for their physical efforts, but for their volunteer efforts as well. Team Baudville raised $8,241 for Team CLC. We are glad that our efforts can help more children receive a conductive education.
The most rewarding part of the race for me wasn't actually crossing the finish line. Now, don't get me wrong, crossing the finish line was a rewarding feeling after running my 15.5 miles. But, what stuck with me was that during the 25K race, I was passed by a few teams of "Angels." Angels are a team of 3-4 people who push children with motor disabilities who aren't able to run, sometimes even walk, by themselves. Some of those children are students at CLC, so it was great to be able to see some of the children that our donations will go to help! The Angels gave children who are not physically able to race by themselves the opportunity to feel that rush that you get when you cross the finish line.
Struggling to carry my own body weight to the finish line, I was so impressed by these teams of people who volunteer to push these kids for 15.5 miles. And, let me tell you, they weren't running slowly by any means. I congratulate these teams of angels and the children they carried to the end of the race. What an accomplishment and an amazing thing to witness!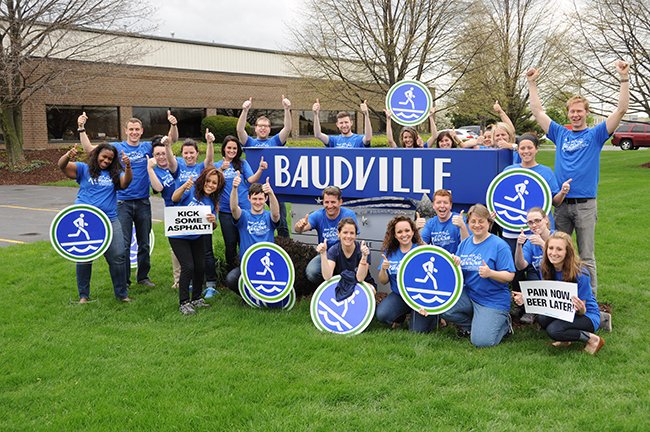 --------------------------

Krista is the 'ville's Web Marketing Coordinator. She came to us in 2012 as part of our stellar Sales team.
Using her experience with Baudville customers, she helps create an online experience we're sure you will enjoy! Being the chatterbox she is, she truly misses talking with all of you so don't be shy and drop her a line!