Baudville is no ordinary place to work – we drop our executives into dunk tanks, pour our hearts into philanthropic ventures together, and wear jeans for a good cause. For these reasons, our team members are no plain Janes or even Stevens either – they're super stellar rock stars! Get to know them one-by-one and we're certain you'll agree.

What do you do here at Baudville?
I'm Sara Vreeland and I am an accounting clerk primarily specializing in accounts payables, but I have worn other hats at Baudville in the past.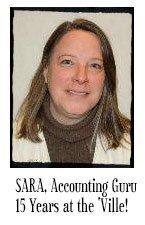 What's your favorite part about your job?
I actually like the sorting, matching, and prioritizing of the paperwork (I know...I'm weird). I also like solving the mysteries and puzzles that come my way. Most people think that accounting is the same ole thing every day, but there are new puzzles and mysteries to solve and resolve every day.

What is something that none of your coworkers know about you?
I have no idea...I read... 2 to 3 books a week? Oh also, in the 1950's, my father work at the CIA (not as an agent or anything...he worked in the communications department in Washington D.C.).

Do you have any pets? Tells us a little bit about them.
Yes, we have 2 cats, Bill & Bennie. Bennie name was easy, but Bill's was named Q-Tip first (he's all white), but that just didn't seem right and we went through about 4 other names until we got to Bill...It seems to fit.

What's your favorite app?
Candy Crush...I've been sucked in, hook, line, & sinker!

What Smart Saying best represents you?
I Work With Super Heroes". I know we don't save lives or anything like that, but I am ALWAYS amazed at the lengths that the people I work with go to make sure our customers get the best shopping experience ever. From the people who make our computer system run its best, the product dreamers, designers and purchasers, the customer service representatives, the warehouse staff, and everyone in between, our customers are always number 1 and we'll do whatever it takes to keep it that way!

Does all of this sound like fun to you? Check out our current openings here!

--------------------------

Kendra is Baudville's Product Coordinator. Using her awesome powers of organization and research, she brings new and innovative products to our customers. She is a recent graduate and is ready to help with your recognition wants and needs. Watch out, because this young professional just touched down at Baudville!