When I completed the registration for our internal 12 week Fitness Challenge, I had no idea what I was agreeing to when I check the box marked "YES! I'm interested in being a Team Captain." Foolishly, I thought there would be so many volunteers that my services wouldn't be needed. Ha! I was quickly proved wrong. Very wrong. After reading the email congratulating me on my Captain status, I immediately thought to myself, "Ain't nobody got time for that!"
Taking a few deep breaths and thinking this decision through, I focused on all the positives of taking on this role. Then I reminded myself of a statement that I heard Dr. Phil make at a conference many years ago: "We all have the same amount of time. We all have 24 hours in our day." With that in mind, I set out to not only take on this task, but to OWN it! But, how?I've come up with a handful of tips for taking a new responsibility or project:
Become best friends with your calendar and email. Communicating with 8 team members in different departments with different schedules is a challenge.
Schedule a specific time daily or weekly to email a progress report or motivational email to the group.
Hold off on replying to individual messages. Look for recurring themes or questions from team that would be helpful for others to know.
Create a folder to house all messages to avoid scrolling through 82 trillion other messages. (Confession: I do tend to hoard email messages)
Majority Rules (but I will exalt my Captain power if needed!)
It can be a daunting task to coordinate 8 different schedules. Schedule an event that works for the majority and debrief those that can't attend. It's also impossible to please every person, every time. Again, majority vote wins.
If the team isn't responding to your questions or requests, then it's time to pull rank and make the decision (Confession: I do own a nautical Captain's hat. I do not, however, wear it when making executive decisions.)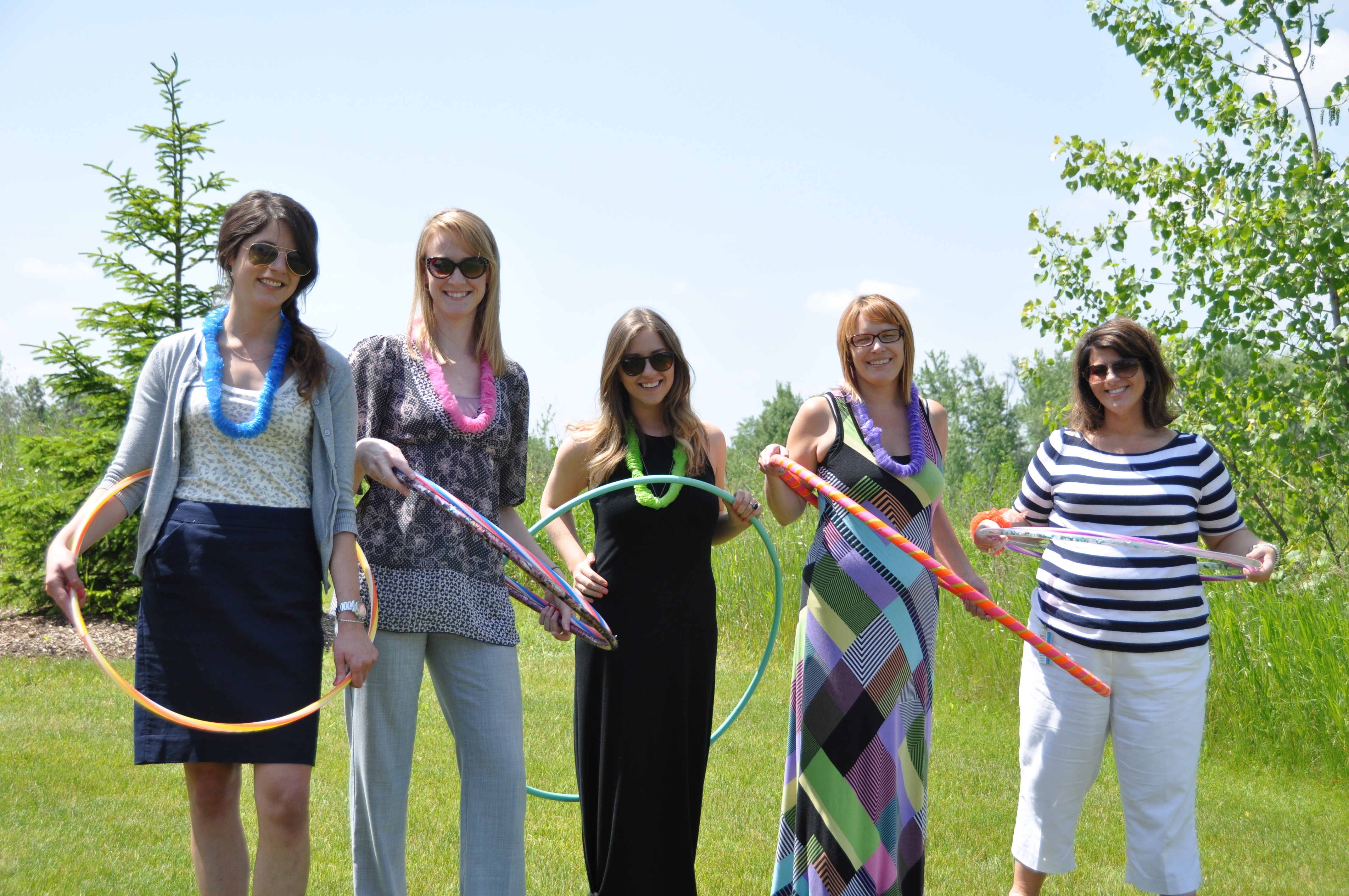 Captain Jennifer (on the far right) and some of her team, Mission Slim-Possible hula-hooping during the 2015 Baudville fitness challenge.
They call it a team for a reason!
As the team captain or leader on a project, it's seems natural to take on all responsibility. Forget that! Rely on others to take on tasks. Delegate. Ask for help. It IS a team effort, after all. (Confession: I was once a control junkie)
At the end of the 12 week challenge, I benefited in ways I didn't think I would. I'm still considered the new kid on the block (I've only got 8 months under my belt) and this was the perfect opportunity to develop relationships with employees from all departments, and at all levels. I learned a valuable lesson that titles don't matter here. We are all one coming together for the common goal, whether it be the fitness challenge goals or corporate goals. Teamwork is the key to our success. That's our culture. That's why I chose to work here.
Personally, I benefitted by eating healthier, drinking more water and getting more sleep. Funny, those three things directly correlate to focus and productivity. I have a feeling I'll be carrying on with these habits because I'm a better team member when I do. (Confession: I'm on a sugar overload today and now feel miserable. I should have opted for the fruit!)
Are you ready to take on a fitness challenge? It was rewarding in many ways. Check out our resources on starting a wellness challenge and see for yourself!