Last week was our annual company picnic, and it was a blast! We left work, and met up at Fredrick Meijer Gardens & Sculpture Park. We brought our family and friends along for an entertaining evening of food, prizes, music, and adventuring at the Gardens.

The night started off in the Grand Ball room where we picked up our nametags, a scavenger hunt for around the different gardens, and gift cards for the kiddos. Then it was time for dinner! We had a yummy picnic themed buffet - followed by some delicious cake, of course! The room, reserved just for us, was a great place to chat with our fellow coworkers, and introduce our friends and family to one another.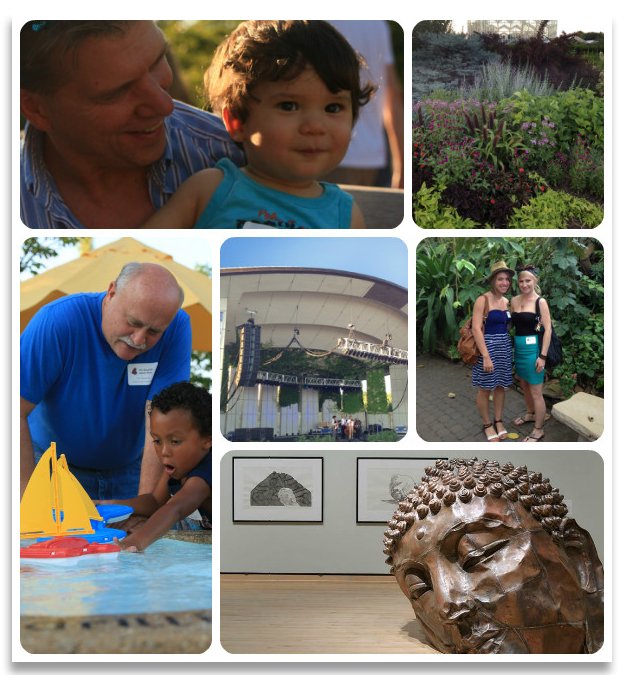 After dinner, Cindy our HR Manager and Brad our CEO, raffled off prizes including mystery bags with various gift cards, and personal fans with built in spray bottles, a perfect accessory for our current heat wave…and lots of fun for the Baudville kids!

Once the prizes were handed out, it was time to explore! Our name tags allowed us free access to roam the museum and all the indoor and outdoor gardens, so everyone got to check out their favorite areas. I personally really loved the exhibit from the Chinese artist, Zhang Huan. The water filled play area was an especially big hit with the families who have kids. We even got to hear some free music outside in the Amphitheatre Garden, a relaxing way to end the night!

Our picnic at Fredrick Meijer Gardens was a terrific event. It gave us a chance to mingle with our coworkers and their families as well as check out some really cool art and scenery. It was my first company picnic, and it was a great opportunity for me to get to know a few coworkers that I don't work with everyday. Overall the evening was a success!

--------------

Lauren has just arrived at Baudville as the latest Marketing & Communications Intern! She's a fresh college graduate ready to join the wonders of the working world. Lauren plans to put her skills to work and become an accomplished Social Media and SEO wizard!