How can you be a great manager?
You ready for this? It's really simple: CARE.
Connect with your employees
Always have your door open
Regularly recognize their work
Encourage team interaction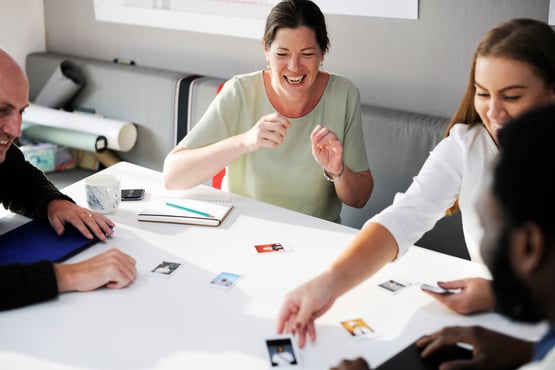 Connect with your employees
What are your employees saying about you? This is a very important question to ask yourself as a manger. By helping yourself be the best you can be, you can guarantee that what's being said is always positive.
Your success is critical, because employees don't really work for companies, they work for managers. Their interactions, accountabilities, and visions all come from that top-down relationship.
If that relationship isn't functioning as well as it could be, it'll show up in lower productivity levels, miscommunication, and inconsistency in performance. On the flip-side, if that manager-employee connection is supportive, cohesive, and compatible, then your results can be successful beyond your wildest imagination.
To ensure that you're taking management to the next level, you need to be:
Improving your skills by seeking learning opportunities and following best practices
Keeping track of your thoughts and ideas about your work and your team
Connecting regularly with your team in a way that builds relationships
Always have your door open
It's easy to get caught up in the daily grind and never truly engage with your employees. You shut your door, put your head down, and get to work, only ever acknowledging your employees when you need something from them.
Not good.
It's hard for employees to feel valued when their manager is too busy to make time for them. That's why being accessible is so crucial for business growth and success.
The simple act of opening your door will show your employees that you are open to their questions, comments, feedback, and regular conversation. A strong leader lets employees be heard and facilitates a comfortable environment to do so.
Regularly recognize their work
Recognizing their work shows that you've been paying attention. And paying attention means you're invested in them. And investment facilitates hard work.
It's the cycle of the work life, and it all starts with you. You have a workforce that is yearning for acknowledgement. So give it to them! It can be a quick "thank you" for a job well done, a fun little gift for achieving a short-term goal, or a more robust award for great service.
It's really not as hard as you think!
Encourage team interaction
Think you can lead by yourself? Think again. As a manager, you may feel solely responsible for encouraging, rewarding, and motivating your team. But do you know that much of your team's strength also comes from within?
Teamwork makes the dream work. The daily interactions, the a-ha moments, the impromptu collaborations—these are all happening on the ground, often out of your earshot and eyeshot. And, like a tree falling in the woods, just because you weren't there to witness it, doesn't mean it didn't happen.
That's where peer recognition comes in. By giving your team the tools to appreciate, congratulate, and cheer on one another, you empower them. You tell them your observations and their judgments not only matter, they have value.
More than that, the trust, respect, and mutual admiration that come from peer recognition create a cultural force that you can't create on your own.
The Takeaway
Caring about your employees is a crucial part of your job description as a manager. Taking the time to CARE will significantly improve your company, its culture, and its success.