Award certificates are commonly used for volunteer appreciation, and many organizations will be ordering their certificate paper and getting designs ready as National Volunteer Week approaches!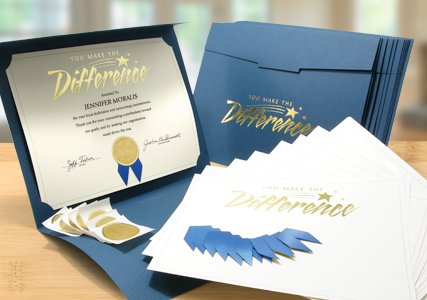 Award certificates are especially popular for National Volunteer Week because they are a very affordable recognition option. National Volunteer Week will be here soon, so we've put together a few resources that will make your award certificate creation easy!
Award Certificate Bundles – There are so many options for award certificates, it can be overwhelming! Our Certificate Paper Bundles coordinate all the items you need—including folders, paper, embossed gold foil seals, and award ribbons—for a beautiful presentation.
Award Certificate Templates – Once you've selected your award certificate paper, you'll need to design your certificate. Each award certificate product page on our website includes a free certificate template, which you can download for FREE! The template makes printing so easy . . . You won't even have to think about playing around with margins!
Sample Employee Recognition Award Certificate Titles – If you struggle with finding the right words for your award certificate, download our Sample Employee Recognition Award Certificate Titles PDF. It's part of the Free Downloads section of our Recognition Resource Center. It includes two pages—one of informal award titles and one of formal award titles—that you can use for the entire group or individuals.
Informal Award Certificates – You don't have to reserve award certificates for only formal occasions. Certificates are perfect for recognizing volunteers informally or on a day-to-day basis (i.e. what we call "on the spot recognition"). Print a few ahead of time to have on hand when the opportunity comes, and all you'll have to do is fill in the blank!