Finally, the sun is out – and with nicer weather, you know what that means! We are saddled up and headed back out to Equest!
For those of you who aren't familiar, in 2013 in celebration of our 30-Year Anniversary, and to further our partnership with the Equest Center for Therapeutic Riding, Baudville sponsored the development of a sensory trail. All employees were able to volunteer to develop this trail from the ground up! It's been an amazing and fulfilling experience so far! But we are just getting started.
On October 16, 2013 the Saddle Safari officially opened! The trail has been a great addition to the Equest Center. Now it's time to get back out there and pull up the weeds and clean up what Mother Nature did this winter.
Last week, a group of Baudvillians, including myself, grabbed our muck boots, shovels and work gloves and headed out to Equest! It was a HOT, but fun filled, day of weeding, shoveling, mowing, hole digging and freshening up the existing trail.
We also got a good start on the new trail that will be across the river! We may have had a few complaints of bug bites, no breeze, and back aches after an 8-hour day of manual labor, since most of us sit behind a computer all day. But, on the way home, we couldn't help but reminisce back to last October when the trail officially opened. It was rainy and cold, and didn't seem like it was going to turn out to be anything close to a nice day. But as soon as everyone started showing up, and the kids were getting ready to ride, the sun came out – it literally turned into the perfect evening! I was reminded that evening and again last week, that I am making a difference.
Look for updates throughout the summer months. We've got big plans ahead!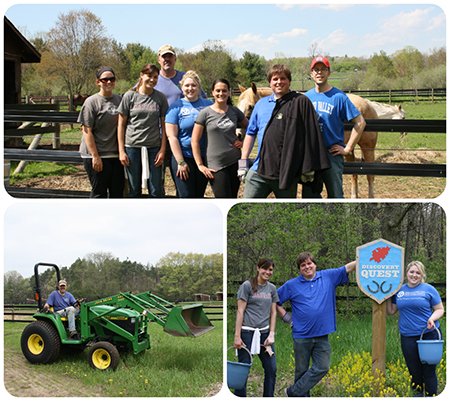 --------------------------

Jenny became a Baudvillian in 2013 and started out as a member of our sales team. She seemed to have a creative knack for Marketing and joined ranks with Krista in 2014 as Baudville's second Web Marketing Coordinator. She loves our products and probably owns every piece of drinkware we have to offer! Equipped with great knowledge of our customers and products, she's excited to help make your web experience even better!