Last Friday night, Baudvillians gathered together to see who had Lady Luck on their side at Baudville's Vegas themed Year End Party. Baudville played their cards right, because the party was a blast for all!

When we arrived each employee received an envelope filled with playing cards. The cards were used to raffle off dozens of gifts that were lined up on a table. Throughout the night, employee's names were called and employees won gifts from a 32" T.V. to gift certificates for dinner and a movie.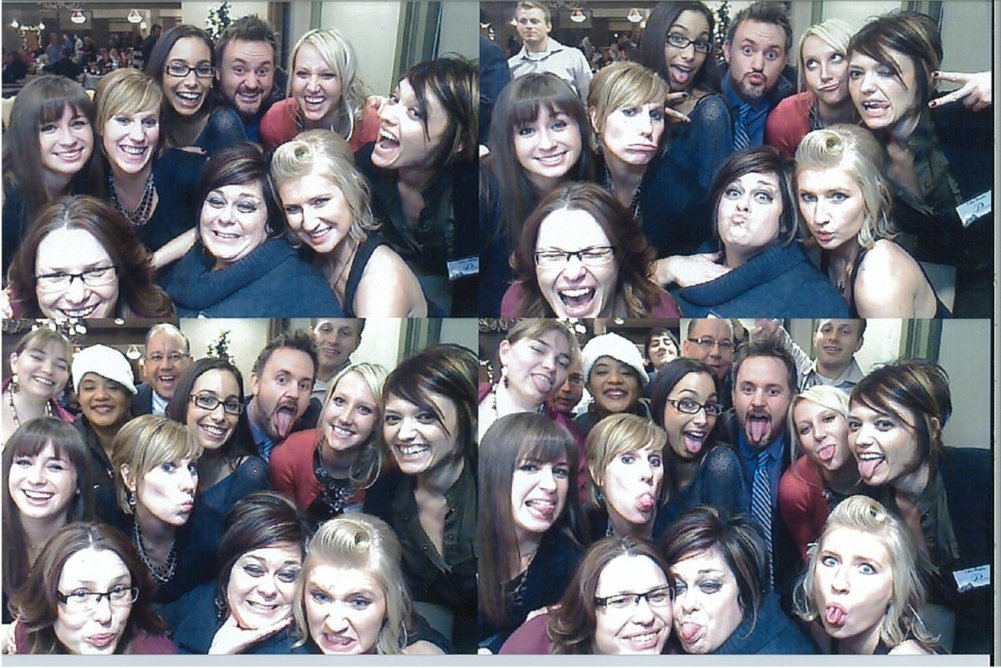 Goofing Off in the Photo Booth!
For dinner we were all assigned tables with flashy center pieces that were named after the famous casinos of Las Vegas. This was one of my favorite parts of the night because I had the opportunity to meet new people and talk with co-workers that I don't see daily. Assigning employees' seats at an event may not be popular, but it is very important. Employees get a chance to mingle with other co-workers from different departments, and this allows them to find out what's happening in other co-worker's lives.

When we finished eating, the different departments of Baudville were brought up front and recognized for their accomplishments. Each of us received an engraved spinner ornament to thank us for our achievements and partaking in an awesome year. Baudville's Helping Hand then announced three different non-profit organizations we were helping this year, and encouraged us to get ready to volunteer for the upcoming year. Last, Baudville handed out its annual INSPIRE Award. Managers nominate individuals whom they believe exemplify Baudville's core values every day. These outstanding employees were honored by a standing ovation and cheers from their co-workers while being presented their award.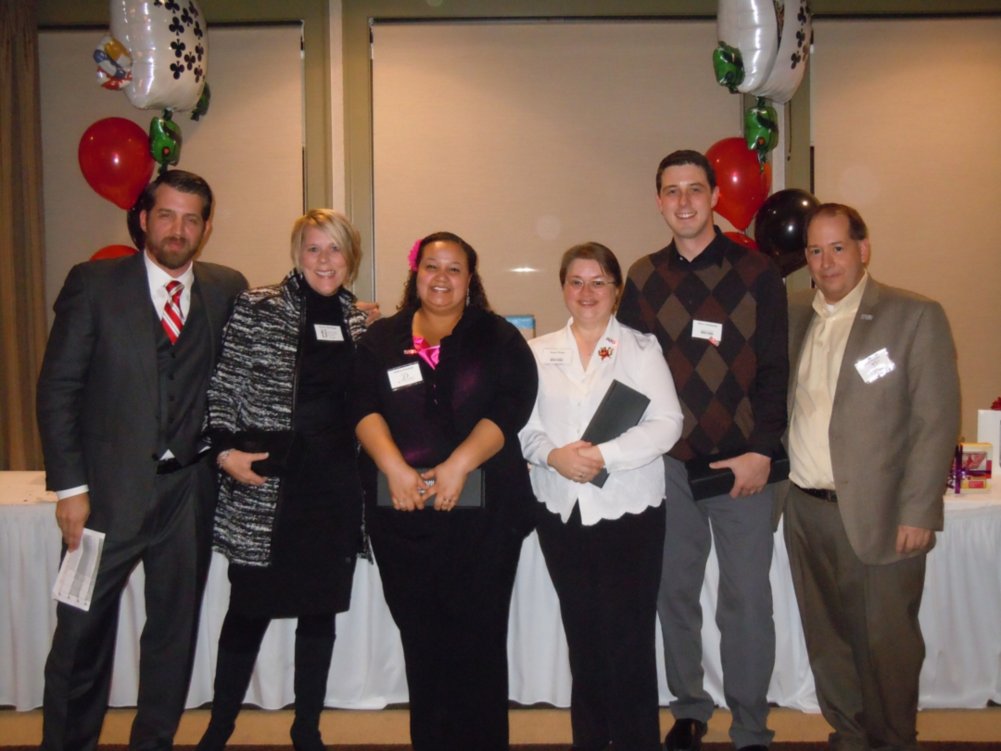 INSPIRE Award Winners
After dinner, we put our poker faces on and cards were dealt. Some of us went all-in at the Texas Hold'em Table, while others put chips on red or black, waiting for the roulette ball to decide their fate. We beat the dealer with 21 in Black Jack, and spun the Wheel of Fortune hoping for big money. While we waited for a seat to open at a table, we perfected our silly faces at the photo booth.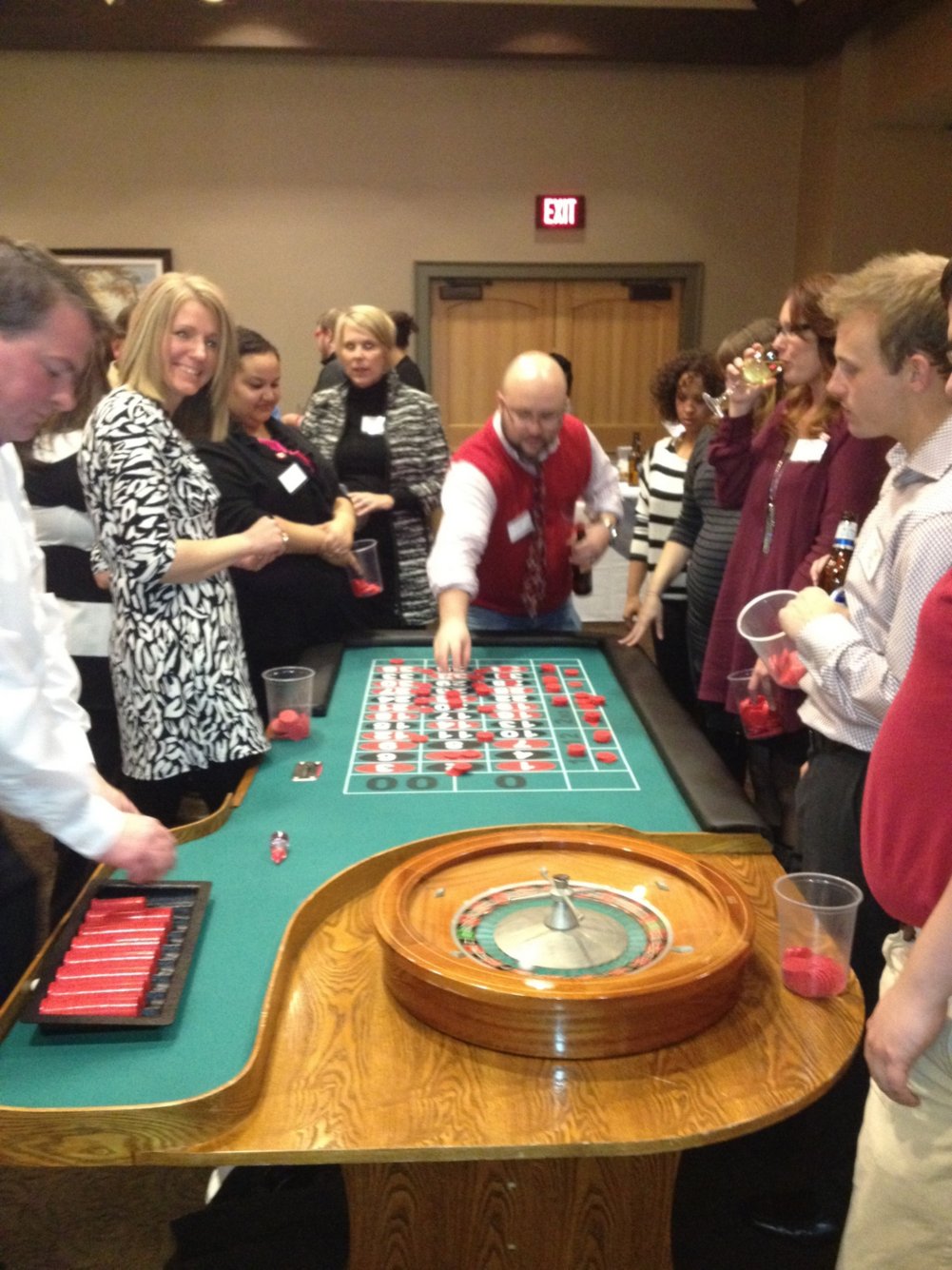 Baudvillians Trying Their Luck on Roulette
I didn't know what to expect for my first Baudville Year End Party. In the six months that I have been here, I have attended a few company events and had a little idea of what to expect. But once again, Baudville blew me away. The Year End Party was a phenomenal experience for me to truly see how amazing the Baudville community is and experience the appreciation everyone holds for each co-worker. Not all of us were lucky enough to win prizes that night, but I think we all know how lucky we are to work with each other.
--------------------
Kendra is the newest Baudvillian. She is currently an advertising intellectual at Grand Valley State University, and is ecstatic about the change of atmosphere as Baudville's web marketing intern. Watch out because this young professional just touched down at Baudville.