We're excited to announce that we've been recognized for excellence in multichannel marketing with a Multichannel Merchant Gold Award for our 2011 holiday marketing campaign!
The award program is organized by Multichannel Merchant, the leading information source serving the catalog, Internet, and merchant community. All of the entries are judged by a panel of industry experts who examine the award submissions for the best use of cross-channel marketing, and the award winners were announced at the National Etailing and Mailing Organization of America in Mystic, Connecticut, on September 20, 2012.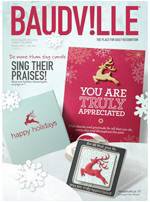 We've won the Gold Award for the business-to-business mid-size company category. The winning holiday campaign included catalog, email, website, and Facebook elements. As an award winner, we will be promoted by Multichannel Merchant across its communications channels, and we've received a badge to promote the award to customers.
At Baudville, we strive for excellence in everything we do, from marketing our products to shipping them to our customers. On behalf of the entire team, we're honored by the Multichannel Merchant Award and excited to receive industry recognition for our team's hard work and creativity!
Interested to see what's coming this season? You won't have to wait long! Our 2012 holiday campaign will officially launch in mid-October when our new catalog with new holiday ornaments, employee gifts, and trophies is delivered to customers. If you can't wait for your new catalog, you can preview our new holiday products on Baudville.com.
----------------------
Cori is Baudville's in-house Recognitionista (she's officially a Certified Recognition Professional, too) and a member of the Millennial generation. Get her employee recognition tips and special discounts by liking Baudville on Facebook.