Even though our Spirit Team hasn't leaked any details about next week's Customer Service Week events, employees at Baudville are getting excited!
For our company, Customer Service Week is a celebration of ALL employees' contributions to the customer experience. We understand that just because you don't speak to a customer doesn't mean you don't influence their impression of Baudville. Marketing, packing, purchasing, accounting – all the departments at Baudville play important roles making sure customers find and get the right products.
We typically celebrate Customer Service Week with a theme and events every day of the week. (See this article for more details about our past Customer Service Weeks.) It requires a lot of hard work and planning, but it always leaves a memorable impression on our staff.
Recently, I asked our employees about their favorite Customer Service Week events. Here's what a few of them had to say:
"My favorite was when other departments covered thephones for the Customer Service Department so they could eat lunch together." – Keri
"I like all the snacks, but I'm a big pig. Oink oink! Usually there's a tray of various goodies to choose from. I like the selection of salty or sweet and the fact that each employee can choose what snack they want." – Kelly
"My favorite is lunch with a few games. It's a great time because everyone gets to come together to eat and hang out (even if it's quick). Also, there has to be prizes for the games! They can be little ($5 gift cards), but that give it an element of competition and excitement." – Christopher
"I LOVED the breakfast when we had omelets made to order, fresh juices, etc. There's just something about having a great breakfast with everyone in the morning that I like even better than lunch. The day is new, and no one has been messing with you yet." - Bruno
Worried that it's too late to order gifts or plan for Customer Service Week? Don't fret! Our same day shipping will get those team gifts to your doorstep in no time.
Plus, we have lots of great articles with tips and ideas for Customer Service Week both on the Recognition at Work blog and in our Recognition Resource Center . And don't miss our Recognition TV episodes ! We share 15 minutes of ideas on both of these videos.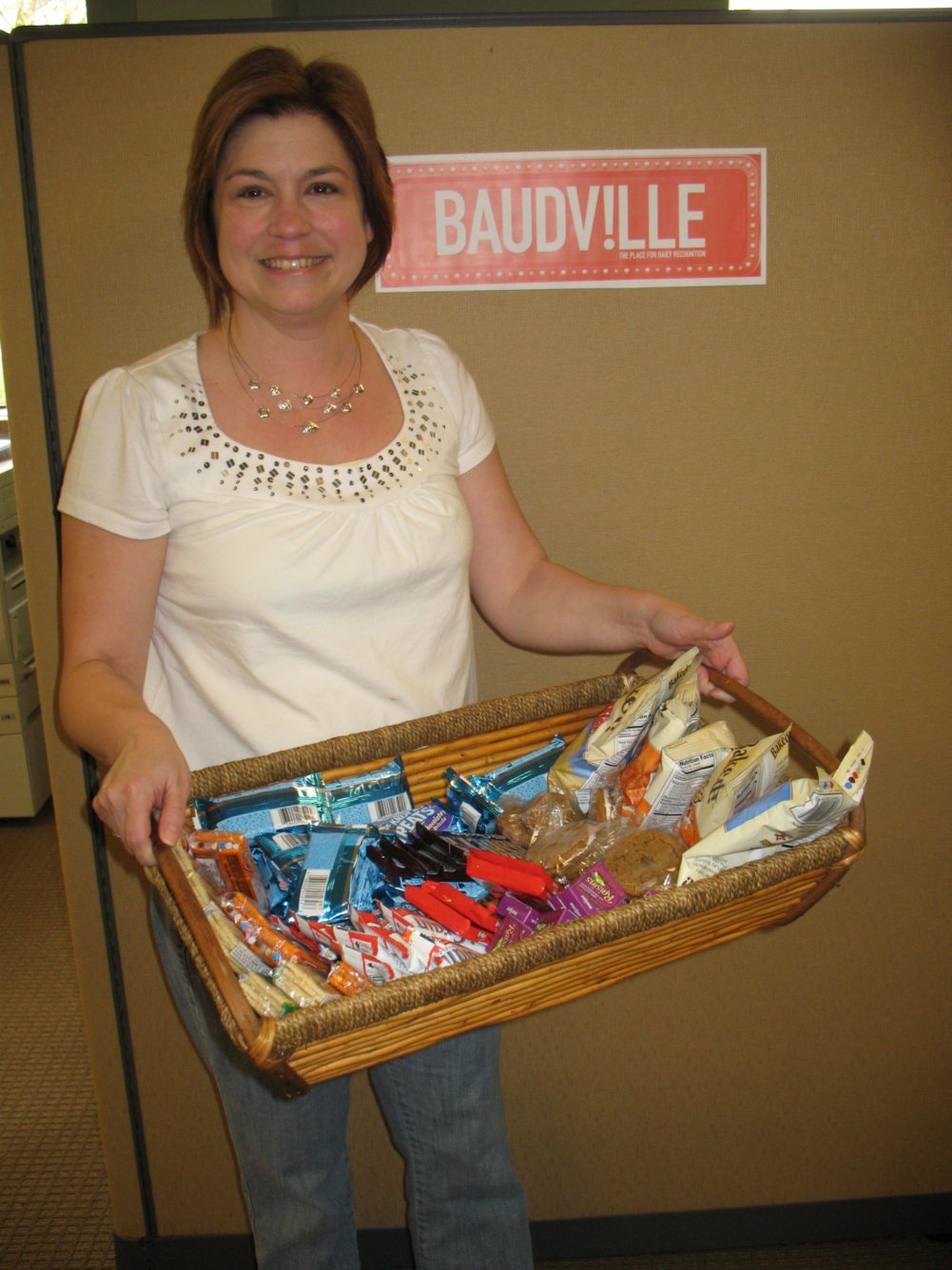 Our snack baskets have been a big hit with employees. Simply fill a basket with snack-size treats, like crackers, snack mix, and chocolate. Let employees pick their favorites!

--------------------
Cori is Baudville's in-house Recognitionista (she's officially a Certified Recognition Professional, too) and a member of the Millennial generation. Get her employee recognition tips and special discounts by liking Baudville on Facebook.