1 in 8 women in the United States will develop invasive breast cancer over the course of her life. That's 12% of the population! Millions of families are affected by this tragic statistic.
October is Breast Cancer Awareness Month, and Baudville is getting involved in this important cause with a week-long company fundraising event.
All employees have been given the opportunity to purchase up to five casual days for the week (casual days are a big deal around here!). In exchange for their donation, employees receive a pink Casual Day Sticker. The casual days only cost $1 each and all proceeds are being donated to the local Gilda's Club, a free cancer support group community. Plus, our charitable foundation, Baudville's Helping Hand, will match all employee donations!
On Friday, employees can earn extra money for Gilda's Club by wearing a pink shirt. Every employee who wears pink will generate an additional dollar for Gilda's Club!
As soon as I purchased my casual day stickers, I knew that I wanted to use this opportunity to honor my friends and family who have fought cancer. Today, I'm proudly honoring the memory of Larry Roth on my casual day sticker. Larry was a close family friend who lost his seven month battle with esophagus cancer last week. Later this week, my stickers will say Grandma, Mom, Rachel, and Danica. They are all people who fought cancer, and their stories inspire me.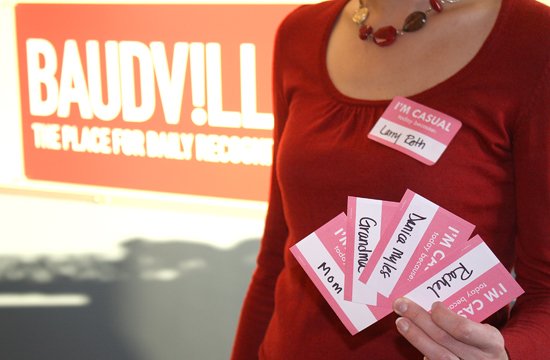 My casual day stickers for the week. Each one honors a different friend or family member who had cancer.
Even at our small company, there are very few employees who have not been impacted by cancer in our friends, family, and community. This week is one way we can make a difference by providing support for families experiencing the effects of cancer first hand. By working with Gilda's Club, it is also our hope to increase awareness of this wonderful resource to our employees, so if they are ever faced with cancer, they have a place to go for help and support.
--------------------------
Cori is Baudville's in-house Recognitionista (she's officially a Certified Recognition Professional, too) and a member of the Millennial generation. Get her employee recognition tips and special discounts by liking Baudville on Facebook.