Allison mentioned in one of her previous blog posts, the 'ville's fourth-annual Spring Fitness Challenge has begun and is now well under way. We are just past the half-way point and as a team captain, I must say everyone is doing an incredible job!

The company refrigerators are packed with fruits and vegetables and healthy lunches every single day. And there is also a buzz around the office about how active and healthy everyone is off the clock, which is amazing! Baudvillians are joining gyms, buying fitness equipment, signing up for races, and getting off their couches to enjoy the great outdoors!

We got really lucky with the weather over the holiday weekend here in Michigan. It was 80 degrees and sunny, and after being shut inside during the cold winter months, that means staying indoors simply wasn't an option!

Even with all the cookouts and bonfires, being healthy on holiday weekends really isn't as hard as it seems. Here are some tips on how to stay healthy on weekends in the summertime!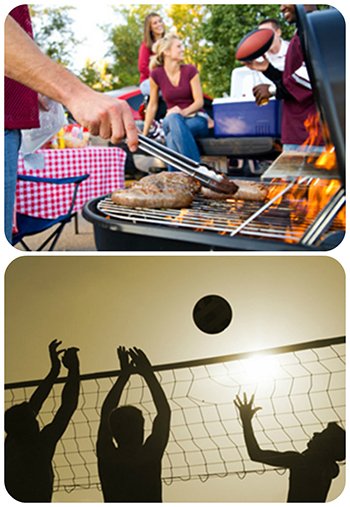 • Most people have landscaping and gardening work to do, and even though those sorts of things aren't considered a traditional workout, you are burning calories and using muscles you probably don't use on a regular basis.
• 80 degrees is definitely warm enough to take a dip in the pool or lake, and swimming is a great workout, so hop in with the kids and get some exercise!
• Although there may be some not so healthy foods at your family's cookout, there are also probably fruits and veggies, so load up on those first so you eat less of the bad stuff.
• Don't sit by the food and graze, make your plate and walk away so you don't fill yourself to the brim and make yourself uncomfortably full.
• Ride your bike! Take your bike instead of your car when you have to run errands or just take a bike ride around the neighborhood with your family.
• Organize a game of beach volleyball instead of just sitting in the sand. Who doesn't love a little friendly competition?

Make sure to take a look at our Health and Wellness Board on Pinterest for more tips on how to stay healthy! Stay tuned: we will have more updates on the happenings of our fitness challenge to come!

--------------------------

Krista is the 'ville's Web Marketing Coordinator. She came to us in 2012 as part of our stellar Sales team. Using her experience with Baudville customers, she helps create an online experience we're sure you will enjoy! Being the chatterbox she is, she truly misses talking with all of you so don't be shy and drop her a line!