Next in our How-To Recognition series is a focus on our new Happy Birthday recognition theme. Everyone has a birthday therefore every employer struggles with whether or not to celebrate employee birthdays in the office. I shared best practices on celebrating birthdays in the office in our Recognition TV Webisode today, and you can watch the recorded version on Baudville.com or Baudville's Facebook page. Most of my tips, ideas and best practices are below.
Celebrate!
The official Baudville stance on birthdays is: celebrate! Birthdays are a great opportunity to let employees know that they matter, you value them, and to foster a sense of belonging and camaraderie. On the other hand, ignoring birthdays can be hurtful to employees. Ignoring a birthday sends a message to employees that the company doesn't value what's happening in their life outside of work. Acknowledging employee birthdays, in small but sincere ways, can improve employee engagement and loyalty to the company.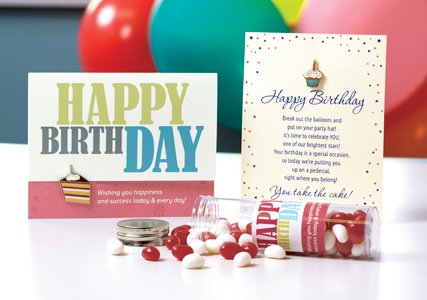 Be Consistent
For your birthday celebrations to be effective, they must be consistent! That means all employees receive similar treatment on their birthdays regardless of their position, department or manager. At Baudville, every employee receives a birthday card that is signed by the entire team on their birthday. This simple gesture means a lot, and employees look forward to reading all the well wishes from their co-workers.
Be Sincere
The number one rule with any form of recognition is to make it personal to the recipient. Before you create a company-wide birthday program, like our birthday card program, ask employees for their ideas. You'll receive a wide variety of responses and some great ideas that you can use.
Keep it simple!
Since everyone in the organization will receive the same treatment on their birthday, you want to budget accordingly. Don't spend a lot on elaborate parties or gifts, or create a program that requires a lot of your time. While a birthday celebration can be meaningful to employees, it shouldn't be your top work priority.
Ideas for Birthdays!
Here's what you really want, ideas for celebrating birthdays! I want to hear your ideas and current practices, too. Post a comment on this blog post sharing your best practice, and I'll send you a set of birthday cards, free!
Communicate birthdays by posting a sign on a public bulletin board, putting it on the intranet, in a company newsletter, the company blog or even corporate Facebook page.
Decorate employees' desks with balloons, banners and crepe paper before they get to work on their birthday. You can get all these decorations at the dollar store!
Have the entire team sign a birthday card or certificate.
Write a note inside our new Happy Birthday Character Pin and give a memento with your birthday wishes.
Have everyone write a Happy Birthday Pocket Praise for the co-worker. It will be a lot of fun to open all those cards!
Give the employee a Happy Birthday lapel pin so everyone knows she's celebrating. To make it extra special, give her a casual day on her birthday, too.
For a small gift everyone will like, stock up on Sweet Treats or Treat Bags. These Happy Birthday themed gifts are small enough you can give them to everyone and big enough to satisfy a sweet tooth.
Bring in a cake or dessert to share with the entire team.
Celebrate birthdays once a month by hosting a reception with refreshments in honor of the employees who just had birthdays. Everyone can join in on the camaraderie and dessert.
---------------------------------
Cori is Baudville's in-house Recognitionista (she's officially a Certified Recognition Professional, too) and a member of the Millennial generation. Get her employee recognition tips and special discounts by liking Baudville on Facebook.