If you run a call center, you're probably always brainstorming new tactics for increasing sales or improving the service experience. Usually these initiatives are driven by overarching corporate-level goals, like promoting new products, increasing visibility in a new market, or launching seasonal campaigns. In more service-oriented centers, the focus may be less on sales and more on call handling/resolution time. Whatever your initiative, it's one thing to broadcast these efforts, so that everyone knows their objectives. But, if you add some excitement and healthy competition to the mix, you can achieve better results and improve morale at the same time.
Over the years, we've held different contests in our sales suite, and we've learned that, to ensure success, you need to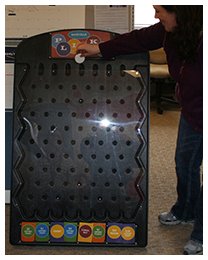 remember the Three Vs: vision, variety, and vitality…
Vision. What is it you're trying to achieve? Increased average order value? Better customer retention? Higher conversion rates? Are your goals short or long term? These guiding forces will drive the duration of the competition as well as the rewards you offer. Identifying measurable and fair metrics is equally important to ensure that everyone has an equal opportunity to be successful.
Variety. If you have several core initiatives, then you have the luxury of changing them up monthly or seasonally. But, you may just as likely have a goal that is constant and doesn't change. Either way, maybe more importantly for the latter, you need diversity to keep your team interested and motivated.
You can change the way that you reward your team: one month you could use a collect & redeem program, like Tokens of Appreciation™ , the next you could use a traveling trophy , and the next you could issue tickets that give your team members a chance to win a prize (at Baudville we have a prize wheel and a Plinko board). You can also change the prizes on a regular basis: shirts & gear they can sport with pride, casual days , gift cards, and even time off.
Vitality. Switching up your contests and prizes will keep energy high and add in the element of surprise. Making sure everyone's standings are publicly displayed, and recognizing winners in front of their peers will create greater incentives and boost your team members' desire to strive for their own time in the spotlight.

--------------------------

Allison is a self-proclaimed Copywriting Diva and has the certificate to prove it! She's been writing for Baudville for five years and has worked in a variety of business settings for 20 years. Before becoming a professional writer 13 years ago, Allison worked as a department manager where she used Baudville products to motivate her team. She's what we call a true believer!