Thanks for joining me today for our Recognition TV, our 15 minute video webinar! Today I shared tips and ideas to give your recognition program a boost. How do you know when your program is in need of a boost?
a. Participation levels have dropped dramatically
b. Employees are grumbling about the reward options
c. Your program hasn't experienced any changes or updates in a long time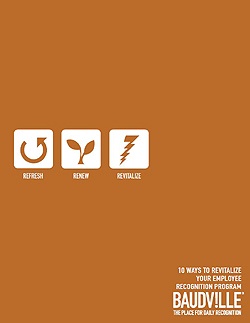 Keep your eyes and ears open for these symptoms of an employee recognition program in need of a boost. In today's webinar, I shared ten tips that can give your program the boost it needs. For a copy of all ten tips, download our new eBook, "10 Ways to Revitalize Your Employee Recognition Program" now available in our Recognition Resource Center.
According to Recognition Professionals International, a best practice for employee recognition programs is to be open to change and flexibility. As the architect or caregiver of your organization's recognition program, you need to be frequently reviewing your program and making the necessary tweaks and adjustments to keep it running like a well-oiled machine.
Hopefully the ideas from our webinar, which you can watch on demand, and new employee recognition eBook give you the tools and ideas to keep your recognition program running strong!
-----------------------
Cori is Baudville's in-house Recognitionista (she's officially a Certified Recognition Professional, too) and a member of the Millennial generation. Get her employee recognition tips and special discounts by liking Baudville on Facebook.