Boss's Day is right around the corner – October 16th. If you have a boss that you love, kinda-sort like, don't hate, or don't want to hate you, you should probably plan on getting him or her a Boss's Day gift. You have two ways to go about this whole Boss's Day gift-giving thing: you can go out on your own and get your boss something just from you (personal and memorable), or you can pool the team's monetary contributions and get your boss a group gift (higher ticket item for possible wow-factor). Here's the good news – no matter which path you choose, we have some awesome gifts full of fun and personality for your favorite boss!
Boss's Day Gifts Under $15
Choose a cool cup or travel mug for your boss and fill it with his or her favorite candy! For Under $20 total, you've got a fun and memorable gift from you to your head honcho!
Or, choose one of our gift pens or journal sets as a great, useful gift!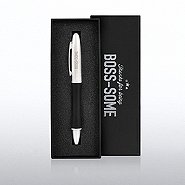 Boss's Day Gifts Under $25
Our Stainless Steel Travel mugs made just for Boss's Day are PERFECT for your coffee-toting boss! They keep coffee piping hot and pack superior spill protection! I'm telling you, these travel mugs make an excellent gift! Or, maybe your boss is forever looking for a phone charger… These exclusive Boss's Day back-up batteries will keep their phone powered up!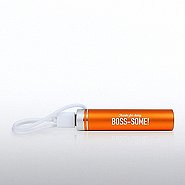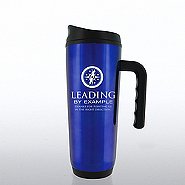 Engraved Boss's Day Gifts
Personalize your Boss's Day gift to make a memorable impression. Our top-selling engravable gifts come with your choice of exclusive Boss's Day graphics and allow you to add up to 3 lines of personalized text at no additional charge! From fun to serious, you can choose an incredible, personalized gift to honor your boss for all that he or she does.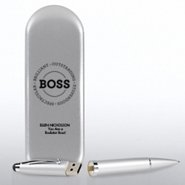 Happy Boss's Day shopping!
---
As a team member since 2005, Falon has worn just about every hat the 'ville has to offer. She's seen both sides of working life — as an employee and as a manager — so if it sounds like she knows what she's talking about, we're pretty sure that's why. When she's not juggling between the IDville and Baudville brands, she's been known to whip up a mean diorama - just like that!