Day Maker (noun). Anyone in your organization—manager, executive, supervisor, front-line employee, or intern—who brings a positive attitude (i.e. positive mojo) to work, recognizes on a regular basis, and has fun at work.
You can be a day maker in your workplace! Here's how:
Be Positive
You can identify the current Day Makers in your organization by thinking about who participates in company events. At Baudville, we host frequent ping pong tournaments. It's easy to see that the employees who participate and those who turn out to cheer on their teammates are Day Makers who support our culture.
Once you identify your Day Makers, encourage them! Give them recognition tools to help spread their positivity throughout the organization. I recommend our Kit & Caboodle because it has fun notes and supports personal, day-to-day recognition.
To become a Day Maker in your own organization, do random acts of kindness. For example: Bring in a cup of coffee for a co-worker who's been working extra hard, or refill the copy paper without being asked. You can do something as simple as putting a candy jar on your desk and encouraging people when they stop by for a treat!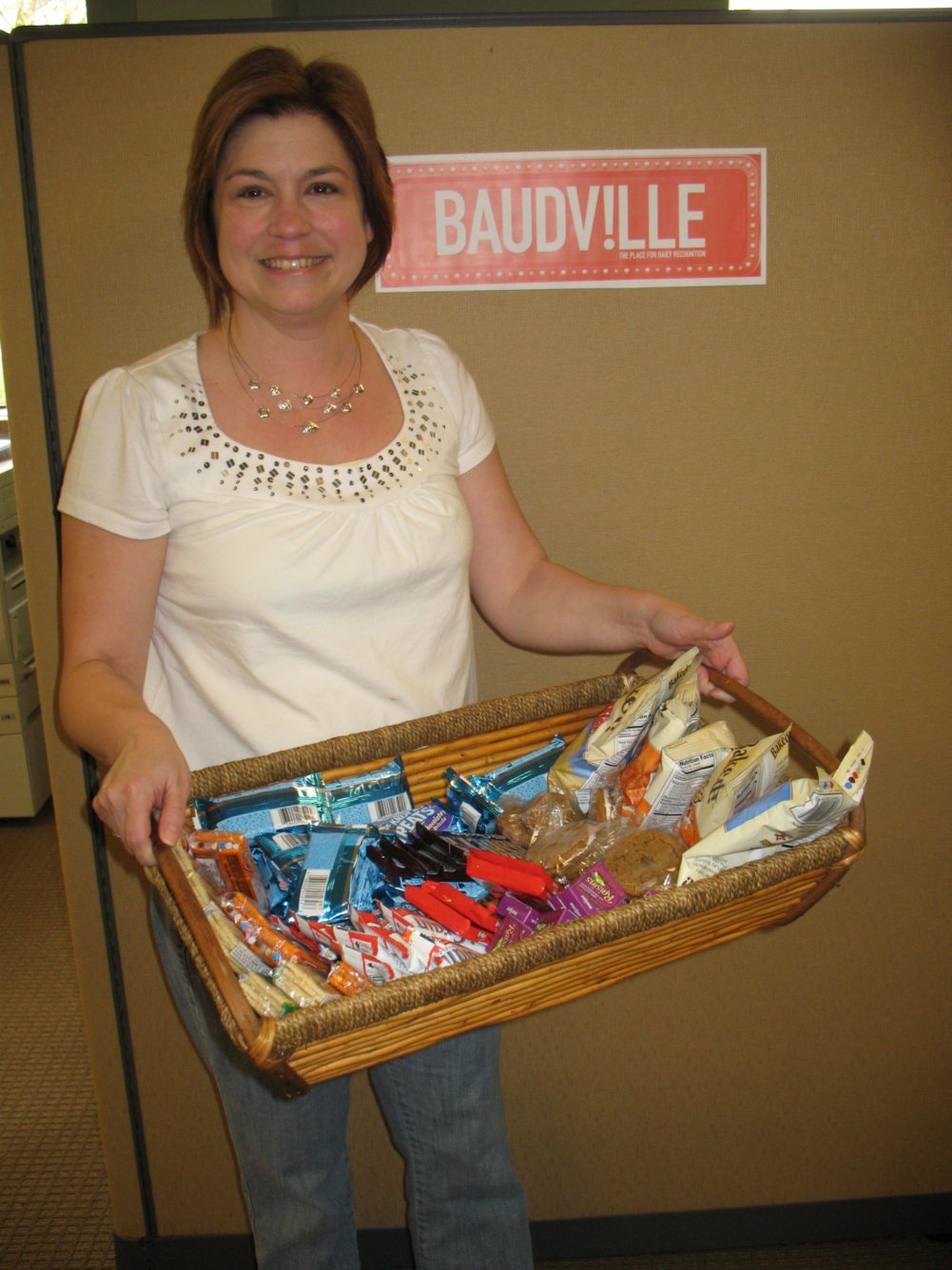 Brenda encouraged her Customer Service team during a busy time with a snack basket!
Recognize Others
There are lots of day-making recognition techniques you can use at work. The best part about recognition is that it encourages others to be Day Makers too! Here are some ideas you can use:
Give someone a compliment on their work or a recent performance.
Write a personal note to remind an employee how much you value her work. It can be quick and easy like our Peel and Stick Recognition Note Sets.
Give positive feedback that reinforces an employee's strengths.
Encourage others to recognize with a peer-to-peer recognition program like Shout Outs.
Make it personal by using personalized note cards or giveaways .
Make the Workplace Fun
A Day Maker can get serious results at work without being serious 24/7. Bringing fun to work makes the work environment more positive and inviting to your employees. It can be as simple as posting our free Print and Posts around the office or sending an ePraise . Our marketing department likes to share Dilbert cartoons each morning to set the tone for the day.
We've had a lot of success bringing fun to work by planning team events. Our Employee Appreciation Day Olympic Games was a huge hit with employees because they had a chance to work together and socialize in a different setting. (Get the Olympic Games How-To eBook here!)
In the sales suite, we helped to keep attitudes positive during a busy time by providing stress kits to every employee with small toys and coupons for casual days, free pop, and snacks. The employees participated in naming our traveling trophy and Play-Doh sculpture contests.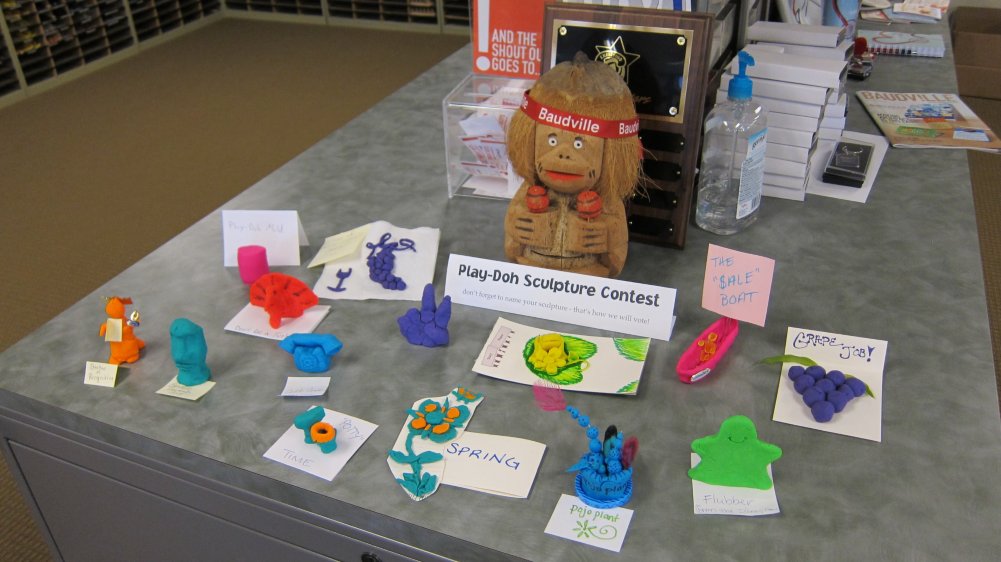 BoJack the traveling trophy and Play-Doh sculptures.
Try It!
It's simple to be a Day Maker, and the small things you do mean a lot to employees. From giving small gifts to writing handwritten notes to committing random acts of kindness, you can encourage employees, improve performances and keep everyone happy!
Let us know how it goes in the comments!