Increase Retention Rates with Business Holiday Cards
In a world where email and text messaging is becoming our primary means of communication, it's the personal touch of a hand-signed and delivered business holiday card that will build your business relationships.

Sending holiday cards is a proven way to build business relationships. One study compared sales representatives who participated in a program of regular greeting card mailings to their clients (at least 4 per year) with those who did not. The sales representatives who participated had a 5% better customer retention rate than those who did not.
Not only do vendor-client relationships grow because of greeting card programs, but internal team relationships can benefit, too. Managers who send a card to their employees' homes make a huge impression! Receiving the card at home is unexpected and has a greater impact on the employee. Plus, they can share it with friends and family for extra reinforcement.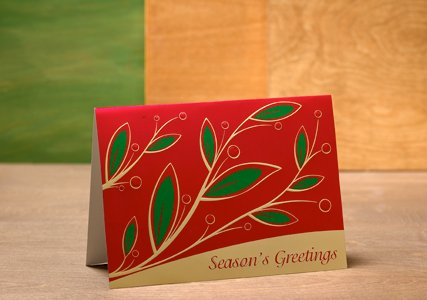 Great relationships are key to business success, like all relationships, they require time and attention to remain strong! The first step to success is showing your attention and appreciation. With a simple, low-cost business holiday card program you'll be on your way to business – and relationship – greatness!
The Perfect Message for the Inside of Your Business Holiday Card
When creating your personalized cards online or writing your own personal note under your verse, what you say and how you say it is of the utmost importance. If time permits, a quick hand written message (even under your personalized pre-determined message) makes a great impact. As in any correspondence of recognition or marking special occasions, your message should be personal to each individual. Give an example of something specific to their occasion or to their personality when writing your message.
Creating Your Business Holiday Card Program
Holidays throughout the year such as Independence Day, Valentine's Day, Thanksgiving, etc. are a great time to keep in touch. Order and prepare holiday greeting cards early for all clients, vendors and customers in your database, then drop them in the mail 12-14 days before the holiday.
----------------------------
Cori is Baudville's in-house Recognitionista (she's officially a Certified Recognition Professional, too) and a member of the Millennial generation. Get her employee recognition tips and special discounts by liking Baudville on Facebook.