In Michigan, we are blessed with super-great summers (usually), where you can find families soaking up the sun on the beaches all over the state. I love spending my summer weekends on the lake! If you ever get a chance to visit Michigan, I recommend doing so in the summer time—it's gorgeous!
About 50 miles west of Baudville is a town called Grand Haven or, during the summer months, "Coast Guard City, USA." Every year, Grand Haven hosts the Coast Guard Festival , which is a ten-day event to honor members of the US Coast Guard. Over 340,000 attend the festivities that include parades, a carnival, ship tours, fireworks, and more!
This year the festival ended August 3rd. It usually begins the last week of July and ends right around August 4th, which happens to be Coast Guard Day. Though Coast Guard Day is usually just celebrated internally among service members, Coast Guard Festival is a great way to celebrate those men and women externally!
So, if you know anyone who is currently in the Coast Guard or has served in the past, send them an ePraise today, or a Shout Out™. Let them know their job doesn't go unnoticed!
Or, if you get the chance to come to Michigan, be sure to visit Coast Guard City, USA!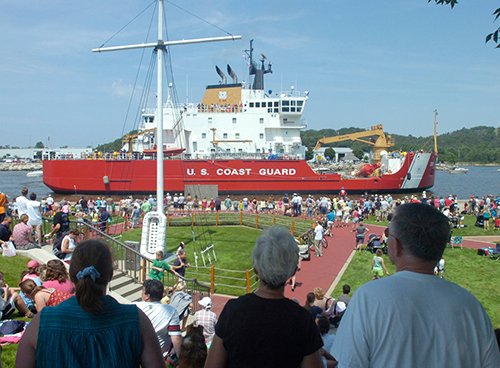 --------------------------

Jenny became a Baudvillian in 2013 and started out as a member of our sales team. She seemed to have a creative knack for Marketing and joined ranks with Krista in 2014 as Baudville's second Web Marketing Coordinator. She loves our products and probably owns every piece of drinkware we have to offer! Equipped with great knowledge of our customers and products, she's excited to help make your web experience even better