Customer Service Week is here, and our Spirit Committee really knocked themselves out this year!

Customer Service Week is always the first week of October, so someone had the great idea to make it a Fest—as in Oktoberfest! Monday morning we were greeted with a "stein" specially printed with the week's theme. And, in it, three custom Tokens of Appreciation with hints to the week's events printed on them.

Yesterday, we got to cash in our first token—the one with the pretzel printed on it. We all expected pretzels, but we had no idea it would be a snack-travaganza! I chose the All Energy Trail Mix (thanks, Baudville, for giving me a healthy option!).

Also available at the pop-up snack store was the opportunity to buy tickets for today's event, which will remain a secret until I report on it tomorrow! But, let's just say, we had a really big incentive to buy them—plus all the proceeds go to the National Breast Cancer Foundation. This, combined with our Casual Day Sticker fundraiser, will make a sizable donation at the end of the month!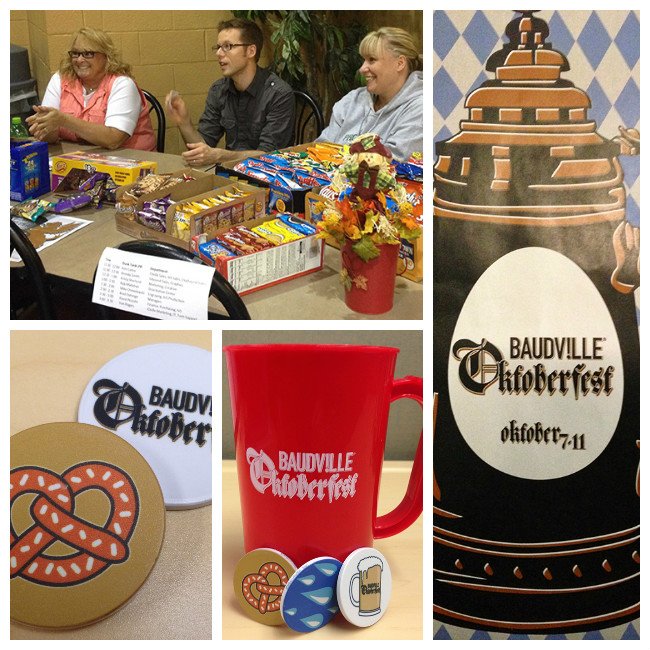 Sound like fun? Stay tuned to see what we'll be doing the rest of the week!

Think it's too late to celebrate Customer Service Week? No way! You still have four more days left. Get ideas for easy, affordable, and on-the-spot ideas in the Customer Service Week Section of our blog.

--------------------------

Allison is a self-proclaimed Copywriting Diva and has the certificate to prove it! She's been writing for Baudville for four years and has worked in a variety of business settings for 20 years. Before becoming a professional writer 12 years ago, Allison worked as a department manager where she used Baudville products to motivate her team. She's what we call a true believer!