I wrote in my last post about my past life as a department supervisor. At that time, I was working at a mortgage company that had a massive customer service call center operating out of our building. While this team was on the phones lines, my department was working behind the scenes reviewing mortgage documents and initiating the correction process if mistakes were found. As the perpetual bearers of bad news, we were not very popular folks.
We had a company-wide program called "WOW", which was our way of recognizing exceptional customer service. While, philosophically-speaking, our organization subscribed to the concept that everyone is a customer, whether external or internal, the only employees who ever won a "WOW" were our call center reps who had received great customer feedback. There's nothing wrong with that; except… I had a department of 27 hardworking people who had never shaken the hand of our CEO and they were starting to get hostile.
Facing the potential of an angry mob, my team leaders and I leapt to action and created our own program. We used it only within our group to nominate each other for a monthly excellence award. The winner took possession of our travelling trophy – one that we ordered, incidentally, from Baudville:
The trophy passed through the hands of several proud team members before I left to frolic in more literate pastures. Hmmm, I wonder where it is today…
Jumping back to the present, I'm thinking about how the same recognition disparity could happen at Baudville. Except that it doesn't. Every morning, we read in our comment cards how a customer had a great order experience with Andrea, or Ryan, or Justin, or Mary Jo. Hats off to them for sure for making our customers so dang happy.
But even when our customers have never spoken to us and can't mention us by name, when I read that a trophy arrived flawlessly engraved, I know that we have Lindsay or another member of our custom team to thank. Or when that same order arrived so quickly that our customer nearly fainted, Marilyn probably helped make that happen. When I read that our web site is easy to use and shopping was a breeze, I know Nik probably worked late to ensure that. Jeff made sure we had enough products in stock to fulfill a massive order without delay. April designed a theme that everyone is raving about. Laura handled a tricky issue with a customer's invoice.
I sound like I'm tooting our horn a little too loudly, I know. But, really, I'm blaring out the praises of all of the individual Baudvillians who make this place work. Just as we are all customer service, so are all of the members of your staff. How about saying thank you this year during Customer Service Week? It's right around the corner: October 5-9, 2015.
In the spirit of everything I've just written, I'm recommending gifts from our TEAM theme: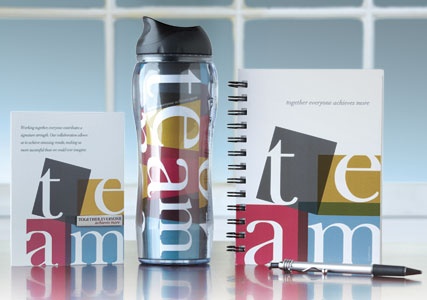 Its design will appeal to everyone on your team and the message drives home that every person brings value to your organization.
Did this post inspire you to plan a company-wide Customer Service Week celebration? Tell us about it!

--------------------------

Allison is a self-proclaimed Copywriting Diva and has the certificate to prove it! She's been writing for Baudville for two years and has worked in a variety of business settings for more than 17 years. Before becoming a professional writer 10 years ago, Allison worked as a department manager where she used Baudville products to motivate her team. She's what we call a true believer!