The new product team here at Baudville has been at it again creating some awesome new product to help you celebrate little moments to major milestones, and first days to company wide events! With over 280 new products to choose from, your team will be well taken care of and you can sit back, relax, and pick out your favorite gift to give!
Celebrating New Hires
Onboarding can be a really stressful time for your company and for the new hire. We're talking first day of school x 10! To help alleviate some of that stress, we have created 20 new products designed to help you successfully welcome your new hire. Order now and have your team personalize a welcome greeting card, welcome candy, and autograph tumbler for the perfect gift set to give your new hire on their first day. Don't forget, personalizing your gifts means a lot to your new hire.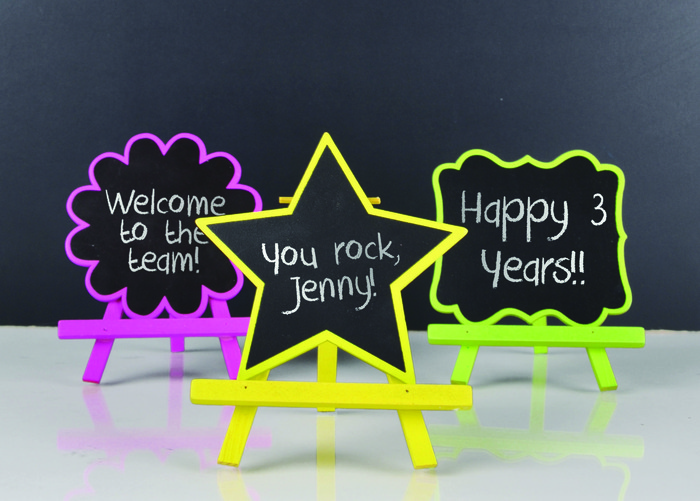 Celebrating Teams
We get it, celebrating teams or the whole company can be costly! We came out with some great low cost new products that are perfect for recognizing your team. Write a note on our bright chalkboard easels and leave it on your recipient's desk for a great surprise. Chalkboard easels are a steal starting at $3.95. Or, get everyone a new Emoji Slingpack Bag starting at $4.95. Emoji bags come with a fun face on one side and your favorite Baudville sentiment on the other.
Celebrating Every Day Awesomeness
Do you think your team members do awesome things every day? Then let them know that! A customer favorite and a personal, is our desktop Shelfees. Let your recipient know how awesome they are by setting one of our unique Woodland Shelfees on their desk or computer. Shelfees are guaranteed to be the most talked about recognition gift you ever give! Not sure if your team is ready for Shelfees yet? How about a gift everyone loves and will use, our new Classic Stainless Steel Travel Mugs. Classic Stainless Steel Mugs come in your favorite Baudville sentiment, have a plastic liner on the inside, and glossy stainless steel on the outside.
Celebrating Birthdays
Birthdays are a great time to celebrate and appreciate employees. Here at Baudville we send a birthday card around the team and have everyone write a little note of praise. Birthday cards are a great low cost option for such an important day. This new product round we created two more Classic Celebrations Birthday Card Assortments, my personal favorite being the Happy Birthday Deluxe Foil Assortment. In addition to birthday cards, Baudville launched our festive Happy Birthday to Me - Bubble Tumbler. This is a fun low cost gift perfect for any birthday recipient!
Celebrate going Above and Beyond
Baudville's new trophies will inspire pride and celebrate the major achievements amongst your team. Some of my new favorite trophy additions are the Royal Blue Accented Double Pane Trophies and the Color Splash Acrylic Award. These trophies are breathtaking and will amaze and inspire any recipient.
---