Halloween is next weekend which means most workplaces will be having Halloween parties on Friday to celebrate. Does your workplace do anything fun for the holiday? Tell us about it!
You don't have to do much on Halloween to have a big impact on your employees and your organization's culture. Send out some communication about the festivities, provide a few prizes for participation, and sit back as your employees all have fun!
At Baudville, Halloween is highly anticipated, yet we keep things pretty simple. Here's our usual agenda:
1. Costumes. Employees are able to wear their (work appropriate) costumes for the day. There is often an impromptu costume parade throughout the building so the costumes can be admired by all.
2. Costume Contest. Employees who wear a costume have their picture taken and posted in Club Baudville (our gathering place/lunch room). Employees each get one vote for their favorite. Winners are announced at the end of the day and receive an award certificate and bragging rights.
3. Trick-or-Treating. Our employees bring in their families for afternoon trick-or-treating. Employees keep candy at their desk and have fun seeing all the kids' costumes. This is one of the few times a year we see our co-workers' families, and it's fun to remark on how much all the kids have grown.
Visit our Facebook page on Friday, October 29th to vote for your favorite Baudville Halloween costume!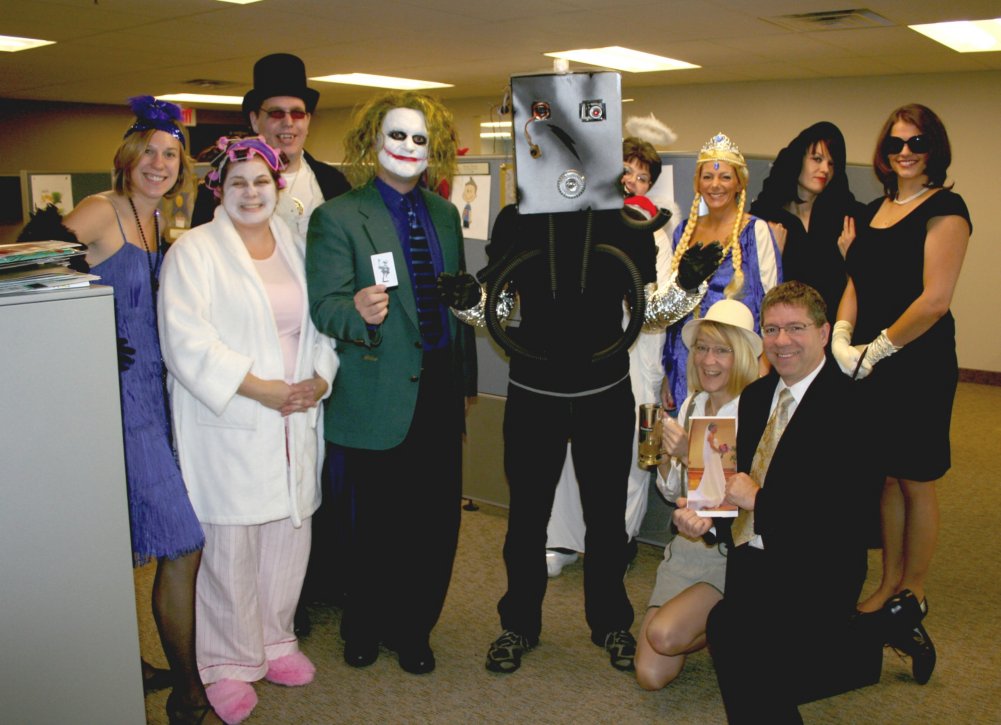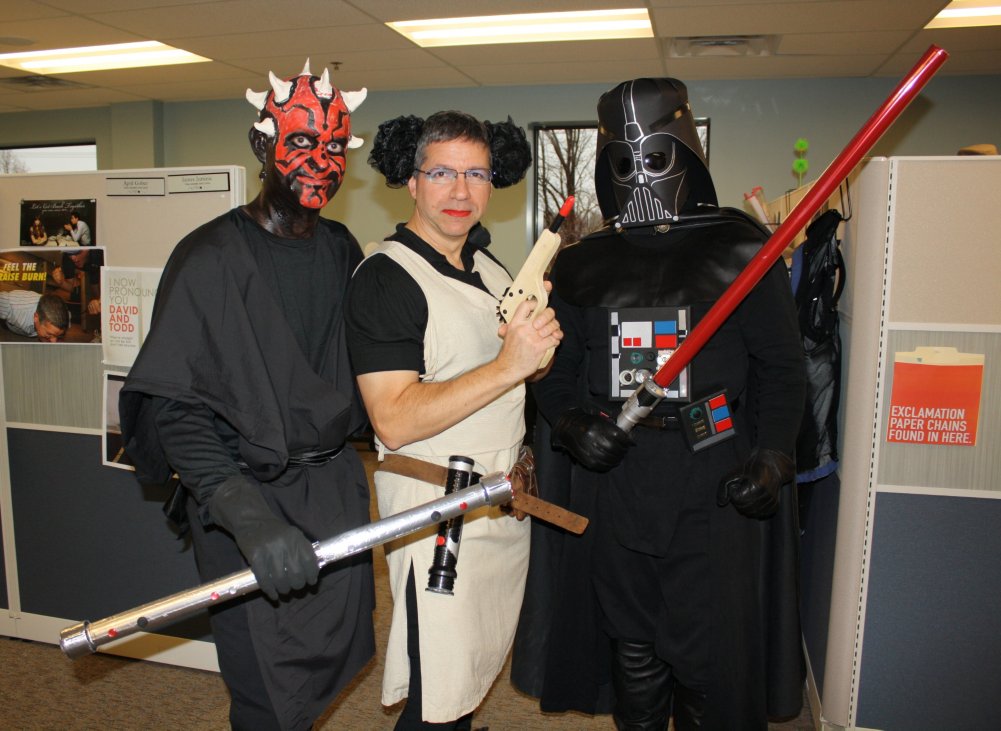 Previous Halloween celebrations at Baudville.
Here are a few more ideas for your Halloween celebration from our 52 Ways to Have Fun card deck:
4. Pumpkin' Chuckin' Contest. See who can toss their pumpkin the furthest either under their own power or by a contraption designed to catapult jack-o-lanterns through the air!
5. Bobbing for Apples. For a twist to this traditional Halloween game, hang apples from the ceiling on a piece of string. You can also hang donuts and see who can finish their donut the fastest. Remember, no hands allowed!
6. Pumpkin Bowling. Use water bottles as your bowling pins, and see who gets the best score!
7. Dessert Competition. Employees can enter this contest for the chance to win casual days, PTO or other prizes. Elect judges and create specialty categories, like Best Use of Pumpkin or Scariest Dessert.
8. Decorating Contest. Have your departments decorate their areas in a Halloween/harvest theme and judge the best decorations. Award casual days or free lunch to the winning team. I used to participate in a similar competition in college between the residence halls. It was fun to walk through campus and admire everyone's decorations. The friendly competition was motivating, too!
9. Carve Pumpkins. We recently did this for a Customer Service Week event. Bring in pumpkins for your teams or individual employees to carve. If you're concerned about the carving equipment, bring in paints instead!
For more Halloween office celebration ideas, check out these articles:
Halloween at the Office
How to Throw an Office Halloween Party
Ready for Halloween in the Office?
-----------------
Cori is Baudville's in-house Recognitionista (she's officially a Certified Recognition Professional, too) and a member of the Millennial generation. Get her employee recognition tips and special discounts by liking Baudville on Facebook.