Friday September 21 is World Gratitude Day 2012! Make the day all about saying thank you for the people you appreciate. Who are you grateful for? Let them know! It's often the people we appreciate the most who hear "thank you" from us the least. Let's change that! Use one of these ideas to express thanks and gratitude on World Gratitude Day.

Send an ePraise. Free, easy, and fast, ePraise are a great way to say thanks on World Gratitude Day. Select your ecard design from over 100 different options and type a personal note to the recipient. You can even schedule the card to be delivered at the date and time of your choosing.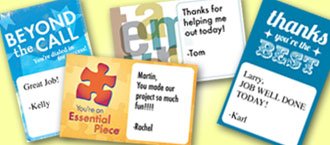 Mail a Thank You Card. Even though the volume of mail being delivered has dwindled, everyone still loves to receive a card in the mail! Drop a card in the mail today with your personal note, and your recipient will feel both appreciated and surprised!

Give a Thank You Gift. Giving a personal gift is a great way to express appreciation! Choose a gift that will be meaningful to the recipient, whether it's an item for their favorite hobby, a book by a favorite author, or a gift card to their favorite restaurant. If you're looking for ideas, shop our Thank You Themes.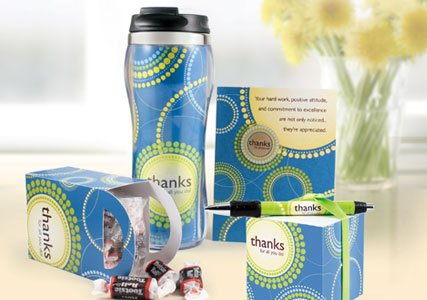 Say Thanks in Person. It's wonderful to give someone tangible appreciation in the form of a gift or a note card, but we shouldn't underestimate the power of saying thank you face-to-face. Seek out the coworker or neighbor and use these four tips to give a sincere thank you.

At a loss for words? We've put together over 25 positive feedback phrases and 101 Ways to Praise to help you start writing. We have tips for writing a great thank you note in our Recognition Resource Center, too.

Next Thursday September 27 is National Thank You Day! Keep the thanks flowing by acting on one of these ideas for that holiday, too!
-----------------------------
Cori is Baudville's in-house Recognitionista (she's officially a Certified Recognition Professional, too) and a member of the Millennial generation. Get her employee recognition tips and special discounts by liking Baudville on Facebook.