We get it! Finding the perfect service gift to celebrate the time your employees spend with your company can be exhausting! There are so many different personalities to account for when making sure you get the perfect service award gift for them. Well, we felt the same way here at Baudville, and that's why we wanted to help simplify your life when we created our newest service award, the Dedicated Service Award Card.

Here are our top 4 reasons why the Dedicated Service Award Card is the best addition to your company's service awards.

1. All-in-One Service Award Gift
This all-in-one service award gift comes with an elegant box that includes a special appreciation message, a beautiful lapel pin, and a Discover® prepaid reward card. This means your team can get what they want, but also have the appreciation presentation and message they deserve!

2. Everyone Loves It!
With over 80 participating locations, who wouldn't be able to use the award card? There is Best Buy for the techies, Macy's for the fashion lovers, and Lowe's for the handyman, just to name a few. Here at Baudville, this award card is a favorite service award gift for our employees because everyone can get what they want!

3. Adheres to Service Award Tax Laws
Celebrate your employees' years of service the right way – a tangible gift and a tax-compliant card all-in-one!

4. You Can Spend What You Want!
We have three award card options you can choose from, our $25 gift pack, $50 gift pack, and $100 gift pack. These three options let you give the perfect amount to your employees, whether they have been at your company for 1 year or 50 years!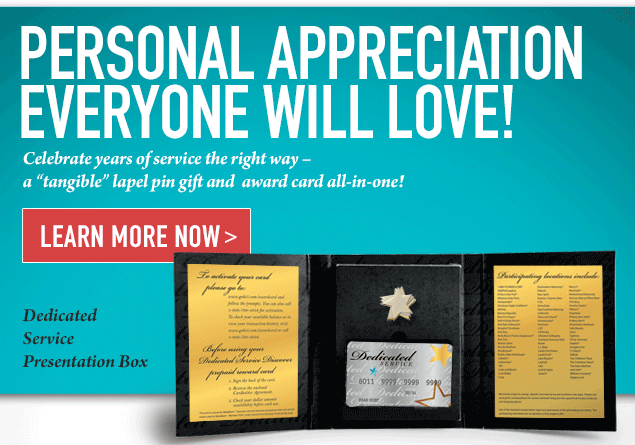 Like this service award gift but are looking for more? Check out our full-service hi5 solution where you can have it all with our comprehensive service awards program.

--------------------------

Kendra is Baudville's Product Coordinator. Using her awesome powers of organization and research, she brings new and innovative products to our customers. She is a recent graduate and is ready to help with your recognition wants and needs. Watch out, because this young professional just touched down at Baudville!