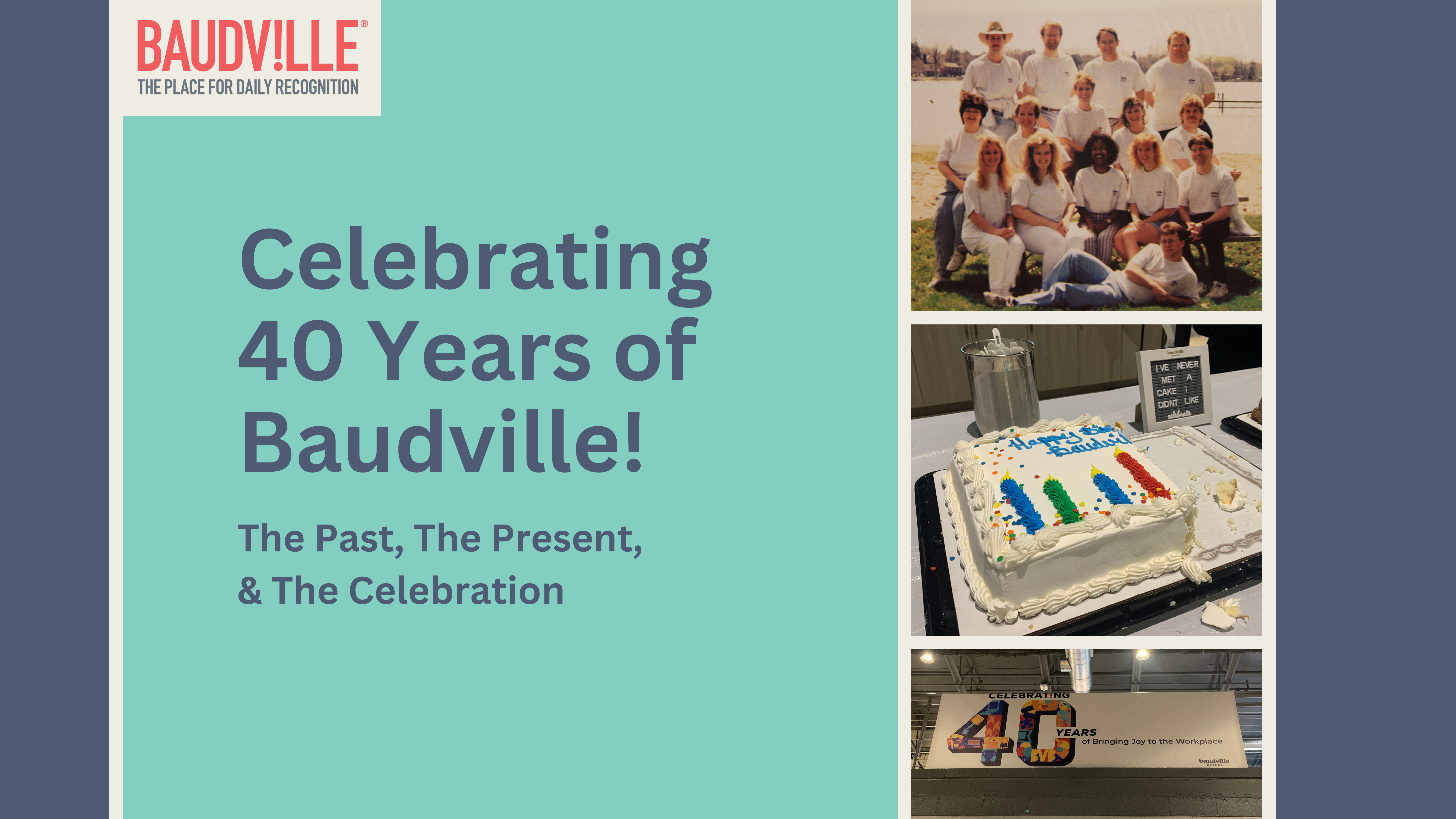 In 1983, the top song on Billboard's Hot 100 was "Every Breath You Take" by The Police. Ronald Reagan was in office at the time, gas was about $1.23 per gallon, and somewhere in West Michigan a small company called Baudville was just coming to fruition. 40 years later, that small company has expanded, evolved, and persevered through a recession in 2008, a worldwide pandemic in 2020, and a whole lot more in-between.
To commemorate all these changes (and all these years), we officially celebrated Baudville's 40th birthday on Wednesday, March 8. Yep, we're officially over the hill, and we couldn't be more psyched about! In today's blog, we're diving into the story, history, and celebration of Baudville.
The Name
While many in the B2B engagement world know who we are and what we do, not many know what the name Baudville really means or how it came to be. According to founder Bill Darooge, the name is a combination of "baud" and "vaudeville." In the 1980's world of telecommunications and electronics, baud was a unit of measure for things like modems, with baud equaling one bit per second. On the other hand, Vaudeville is a theatrical genre featuring specialty acts like dance, song, and comedy. Together, the two words create a balance between academic and whimsy – thus encompassing the mission to develop products "that are fun but not without purpose."
WATCH: The Story of Baudville with CEO Brad Darooge and GM Lindsay Merdzinski
The Logo
Our branding has evolved a whole lot through the years! Here's a snapshot of some logo changes from the 80s to today:
The People
How has Baudville changed in the last four decades? We asked some of our most tenured team members, and it turns out… it's changed a lot and in more ways than one!
Mike Chmielewski, 30 years with Baudville: "When I started in 1993 we were one company and had under 10 employees. Now we have two companies and over 100+ employees."
Bruce Malone, 30 years with Baudville: "The building has expanded substantially. There were also three companies in the building when I started, with Baudville occupying less than half the building. We had about 12 employees at the time."
Jen Breidenstein, 19 years with Baudville: "There have been so many changes! One of my favorite changes is the dress code went from Business Casual to Casual. When I started we could only wear jeans, sweatshirts or tennis shoes on payday Fridays and everyone looked forward to it. Now, we can wear casual items any day. There is less stress on buying the right clothes and more focus on being comfortable based on your work for the day."
Cara Kind, 18 years with Baudville: "Baudville used only half of the space we have now, it was two different companies. There was no engraving area when I started."
Lisa Moody, 18 years with Baudville: Baudville has grown in big ways! Not just the employee count but the building – when I first started, we had half the building space, a corn field next to us, different leaders in the building, etc. The branding/logo has changed and we have revamped the work space a couple of times which has been a fun journey!"
Cassie Decker, 18 years with Baudville: "When I first started, Baudville didn't even have a website. We weren't required to ask for and very rarely used a customer's email address. But we ALWAYS got their fax numbers! lol. I used to gauge how busy we were by the incoming phone volume. If we had 300 calls by 3 PM it was a 'normal day.'"
Lindsay Merdzinski, 17 years with Baudville: "Our product offering has evolved as has our target customer, we've welcomed many new faces & families to the ville and technology has made incredible advances. We are still trying to keep up with the ever-evolving technological landscape. One thing has remained consistent though and that is that appreciation in the workplace is essential to the health & well-being of an organization – including ours!"
Stacy Corcoran, 15 years with Baudville: "Mostly the number of employees! Much larger quantity but still the same amazing quality of people! Also, the building has undergone a few amazing renovations!"
The Celebration
How did we celebrate 40 years of business? With a whole lot of birthday cake, of course! After a speech from our GM Lindsay Merdzinski and a spin-to-win giveaway, we took time out of our workday to eat cake, mingle, and celebrate 40 years of bringing joy to workplaces worldwide. And this week is just the start to something we have tokened "The Month of Fun." Stay tuned to keep up with alllll the fun things Baudville has going on this month to celebrate four decades of business!
Interested in chatting with your rep? Find your account manager here - and they'll touch base with you to find a good time to discuss your vision!
We've had the privilege of working with some amazing organizations to develop a branded, special experience for their team.
We appreciate their trust in finding the perfect fit, and we're so excited to highlight how they turned out!
Whether you're just dipping your toe into the custom experience, or you're an old hand at it, we know that together we can pair up to make an amazing impact for you and your organization!
Want more content like this? Subscribe to our emails!