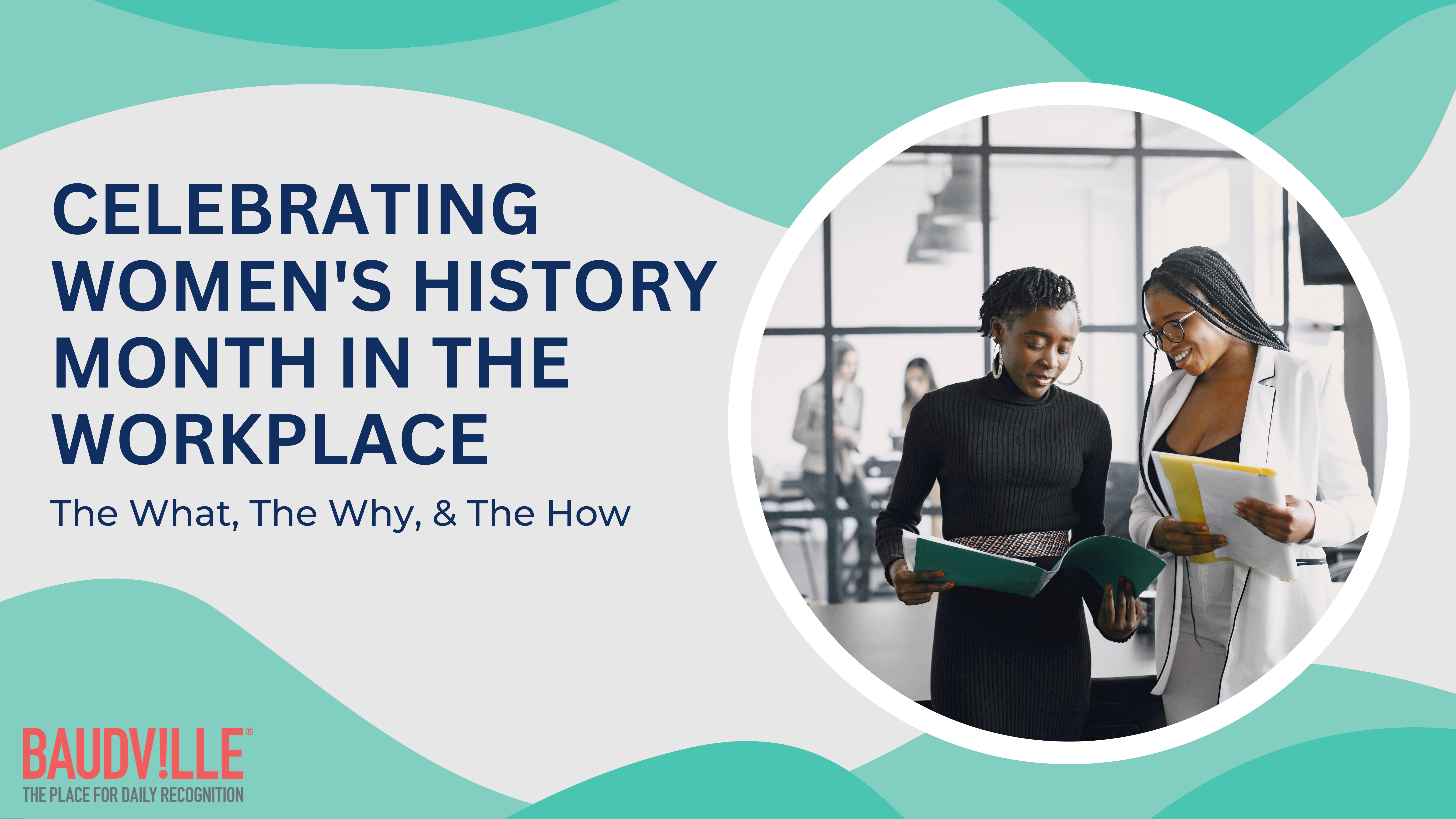 Happy Women's History Month, y'all! This month is all about acknowledging and appreciating the contributions of women in history. It's an important time to expand your knowledge on women's history, but it's also an important time to support and empower the women in your life today.
If you're wondering how the heck to celebrate Women's History Month in your department, you have come to the right place. We are going to talk all about the impact, purpose, and process of celebrating in the office.
What is Women's History Month?
Women's History Month is celebrated each year in March in the US, UK, and Australia. In Canada, it's celebrated in October. The celebration lasts all month and brings awareness to the challenges and achievements of women throughout history and in the present.
Why Women's History Month is Celebrated
So why should YOU be celebrating Women's History Month in the office? Because it's important to empower women in the workforce and to encourage more women to pursue higher professional paths. In 2023, women make up a large percent of the workforce but they aren't always given the same opportunities as their male counterparts.
Below is a list of stats that convey the importance of reflection during this month:
Women's History Month is a time to have in-depth conversations about what individuals can do to reach true and long-lasting equality. Celebrating it in the workplaces shows your female workers that they are seen and valued. Plus, it improves equity, diversity, and inclusion within organizations and the wider workforce.
How to Celebrate Women's History Month
When it comes to celebrating Women's History Month, there should be a balance between education and appreciation. There are many things that can be done throughout the month to cover both areas.
To help you out, we have created a list of 5 ideas to get you started:
Quote of the Day: Who run the world? Girls! Duh. From the beginning of time, women have been saying, writing, and singing notable words of wisdom. There is certainly no shortage of inspiring quotes from notable women throughout history. Whether the speaker be a current celebrity, a historical figure, or an industry leader, the list of quote possibilities are endless. Use these quotes to motivate and inspire your team! You can send them in a Slack or Teams message, pin them on a bulletin board, or share them during your morning huddle. Heck, post them on your socials if you want those wise words spread beyond your office walls. Need inspo? Check out this list of wise words from women.
Movie + Book Series: We all love consuming media. I mean, it's quite literally a daily "to do" for a whole lot of people. So, this month, why not gear that media towards women's history? You can host a movie or book series in the office, give it as a little "homework" over the weekend, or simply provide employees with a list of resources they can check out at their leisure. The best part? Books and movies spark larger conversations. Like a classic book club, invite your employees to sit down and have intentional conversations about the movie they watched, the book they read, and what they took away from the experience. Need some book and movie ideas? We've got you covered.
Guest Speakers: Looking for a way to up employee engagement? Guest speakers are the thing for you. Bring in a speaker to educate your staff about women's issues and professional topics, or just to tell the story of their hardships and successes. This is a chance to hear from real people, to connect with them, and to learn along the way.
Lunch and Learns: What the heck is a lunch learn? Well, it's exactly what it sounds like…a time (during lunch) to eat, talk, listen, and learn. We love this idea because it's interactive and educational while also being casual and fun. Plan your event to happen during lunch hours, provide food, book a couple speakers, and spread the word to your employees! Topics to cover include: Little ways to help break down barriers, how to be an ally to female professionals, and the intricacies of balancing motherhood and work.
Appreciation: Don't forget to spread some gratitude this month! It may seem like a simple thing, but sometimes those simple tasks are easily overlooked. While Women's History Month is largely about, well, history, it's also about the women in your life who make a difference. It's about the female workers who innovate, push boundaries, and work fearlessly in their effort to empower other women around them. So, this month, make sure to share your appreciation. Write a note, send an email, or give a little gift of gratitude. And remember – even the smallest token of appreciation can have a lasting impact.
So there you have it: The what, the why, and the how of Women's History Month. What are you waiting for? It's time to celebrate!
We've had the privilege of working with some amazing organizations to develop a branded, special experience for their team.
We appreciate their trust in finding the perfect fit, and we're so excited to highlight how they turned out!
Whether you're just dipping your toe into the custom experience, or you're an old hand at it, we know that together we can pair up to make an amazing impact for you and your organization!
Want more content like this? Subscribe to our emails!