Achievements. Proudly displayed in offices, cubicles, in waiting rooms, on bookshelves, in the way we hold our heads high, shoulders back, walk with a pep in our step... we take pride in our achievements in many different ways. Being recognized for the value that we bring to our jobs, to our communities, to our families, is important. When we're recognized for our contributions, we want to do more.
It's important to note that not all achievements have to be acknowledged with grandiose crystal trophies. In fact, I would argue that smaller, more frequent acts of recognition and appreciation are more powerful than that once-in-a-blue-moon super celebration. And when the acknowledgement comes from all levels throughout the organization - peers, managers, leaders - the impact it has is more pronounced.
Our all-new Collect Your Flair Kits give you a program for recognizing defined behaviors throughout your organization, ultimately creating a culture of recognition and appreciation.
Kristy Sherlund, Baudville's VP of Product and Merchandising, explains the inspiration for our new Collect Your Flair Kits, "When I looked around most workspaces I found certificates hung on the walls, awards decorating desktops, and notes pinned up on cubicle walls – each representing a proud moment for the person displaying it. The power of pride can go viral and that's the kind of contagiousness, as a business leader, we want spreading around our offices. We designed our new Collect Your Flair Kits as a way for you to build a little friendly competition surrounded with pride in everyday achievements. So go ahead, spread the love and watch spirits soar!"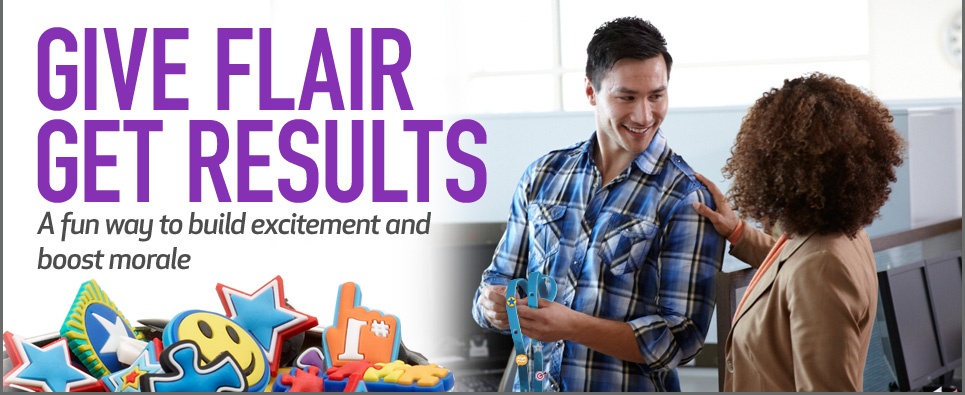 Each Kit includes 120 pieces of Flair Wear(TM), and you choose whether you'd like your team to collect and display their flair on lanyards or desktop frames.
The power is in the execution – define the behaviors you're going to reward, communicate with your team, and keep your eyes peeled for moments of greatness. Give flair, get results, and watch your team's success blossom!
--------------------------
As a team member since 2005, Falon has worn just about every hat the 'ville has to offer. She's seen both sides of working life — as an employee and as a manager — so if it sounds like she knows what she's talking about, we're pretty sure that's why. When she's not juggling between the IDville and Baudville brands, she's been known to whip up a mean diorama - just like that!