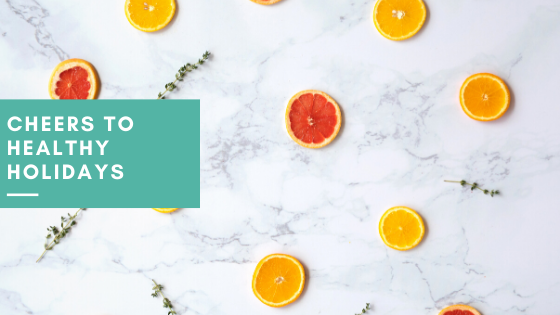 Cheers to Healthy Holidays
The holidays are nearly upon us! As we start the journey toward the New Year, now is the ideal time to think about ways to ensure our health and wellness.
According to a Healthline survey, between 62-65 percent of us feel some sort of stress during the holidays. And we all know that stress brings a multitude of problems, from sleepless nights to depression and anxiety. Add an extra martini at the company party, political fights at family gatherings, and last minute runs for forgotten sugar cookie sprinkles, and you have a five-star recipe for a stress bomb.
So why not give yourself a gift this year and focus on your physical and mental wellbeing? With a few quick tips like these up your sleeve, you'll be well on your way to a healthy holiday season:
Enjoy a warm cup of herbal tea when you're feeling edgy. Taking the time for a calm moment can get you through hours of power shopping! Invite a friend and commiserate.
Budget. Forty-seven percent of respondents to the Healthline survey reported that finances are their greatest stressor during the holidays. Think of thoughtful, heartwarming gifts for friends, family and employees that won't spontaneously combust your credit card.
Thank yourself for all you do—you are a super hero for fighting traffic, wrapping presents, making cheese balls, and finding the perfect gifts for your picky aunt, the kids' teachers and/or your dog sitter.
Thank others. A Harvard Health publication on giving thanks states that showing gratitude toward others gives us greater happiness. Surprise your mailman, co-worker or trash collector with an unexpected holiday gift—it'll bring joy to you both!
Encourage your fellow co-workers to stay on the fitness train—start a wellness group or boost healthy habits by passing out wellness print-n-posts. Try to keep break room treats to a minimum.
Stay hydrated. Drinking at least eight 8-ounce glasses of water per day helps maintain energy and brain function. And during the holidays, we desperately need both! Use this wide mouth wellness bottle to ensure you meet the daily H20 recommendation.
Before you head to the office holiday party, eat a fiber-rich snack like apple slices, nuts, or hummus and veggies. Being full when you arrive can help prevent overindulging.
Breathe. Laugh. Find joyfulness. Remember—the holidays are short. Try your best to let go of the small stuff.
Here's to a healthy holiday season. May yours be filled with peace, love, merriment, and short lines!