I'm not making this up…

Once, at a former workplace, our espresso maker got more peer nominations for Employee of the Month than anyone else. A high performer, true…but really?

That was the state of our morale. Our spirits had been broken by circumstances too mind-boggling to adequately describe here; but, we were truly disenchanted and pretty much walked around like an office full of zombies. Zombies who really valued a strong cup of coffee in the afternoon.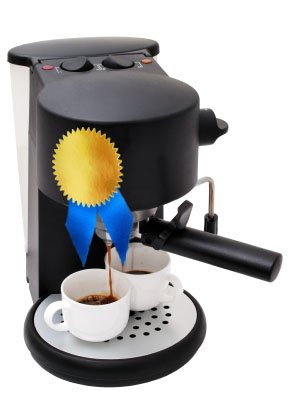 I've been thinking lately about our sad, bitter little group and wondering if our situation was reversible. The Employee of the Month program was actually an effort to improve relationships, but it was met with such cynicism that it had the opposite effect. And, I, with prior experience using recognition, was the one who suggested it. Epic fail, as they say.
I could blame it on the fact that we were too far gone for anything to work, but I think part of the problem was that we chose Employee of the Month as our recognition program. While these programs probably work well in some organizations, they also have many shortcomings. For example:
There is only one winner—and that can make everyone else feel like a loser.

To be fair, winners are sometimes chosen on rotation (either deliberately or subconsciously), which actually isn't fair at all. Or, just the opposite, the winner is always one of just a few top performers.

There is often only a nomination-type system in place (with the potential for management or peer favoritism), rather than having a forum in which specific behaviors and achievements are rewarded.
Knowing what I know now, we could have chosen a more inclusive method of recognition. In fact, working at Baudville, I've seen two powerful employee recognition programs in place that are much more effective than the traditional system of single-person nomination: day-to-day recognition and peer-to-peer recognition.

Day-to-day recognition focuses on genuine everyday expressions of appreciation that reinforce and reward positive behaviors. It's administered mostly by managers through products like Cheers Kits™ and Pocket Praise®. The important part is that everyone has the opportunity to be recognized on a regular basis, sometimes just for little things, which makes everyone feel good.

Peer-to-peer recognition is a subject I've already talked a lot about lately, so I'll try to keep it brief. But a program like our internal Shout Outs incorporates our core values, which means we are given recognition for exemplifying behaviors and attitudes that matter to our company (and are also key to business success). People know why they're being recognized; and, as with day-to-day, peer recognition includes everyone, so we all get to feel like winners.

Both systems have the potential to elevate the entire team—all the time, any time—rather than just focusing on one person per month. They also create a positive culture in which giving and receiving recognition feels natural and sincere. Finally, people are enthusiastic about the programs and look forward to recognizing their staff and coworkers…not appliances!