Gifting is the best, and puts a Yay! into everyday—for you and the person on the receiving end.
Client gifts are extra special—they show your sincere gratitude and set you apart from your competitors. These gifts require more intentional thought and care, but by giving something with heartfelt meaning, you'll create that super wow factor that leaves a long-lasting impression (think repeat business).
Where to start may seem daunting though, and many companies choose products that fail to hit the nail on the head. So where does someone even begin?
Instead of using your precious time figuring out what to give, we, at Baudville, took the time and care to curate extra special client gift kits to ensure that whatever you choose will keep giving time and time again.
And, we make it even easier on you by shipping the gifts straight to your client's doorstep!
We're all about Unboxing Happy™, so read on to discover some awesome client gift options with our new product line, Delightly.
But first, let's have a quick chat about the importance of adding your logo to a client gift…
Packaging: The First Impression
First impressions are lasting impressions—we've heard that old saying a million times. But it couldn't be truer!
According to ASI, the Advertising Specialty Institute, gifts with logos/branding on them are "traveling advertisements that leave a lasting impression, making them crucial for building brand awareness."
That's why, when thanking a client or customer with a gift, your logo front and center on the packaging is the first thing they should see. Of course, what's inside is super important too—it's a package deal—but think about presentation along with content.
Also consider branding the gifts themselves. The longer and more often a branded product is in front of a client/customer, the more certain you'll see them walk through your door again.
Care-filled Consideration
When selecting a gift, make it a deliberate choice. Along with carefully-chosen, high-quality products, think about how those items complement who you are and what you do as a business. For example, if you're a hair, massage or nail salon, a gift that promotes relaxation would be ideal.
Our "Modern Escape" kit will remind your client/customer of the service you provide. When they sip on the peach tea or slather on the brightening face mask, they'll instantly be transported back to the calming experience you gave them. Next thing you know, they're booking another appointment.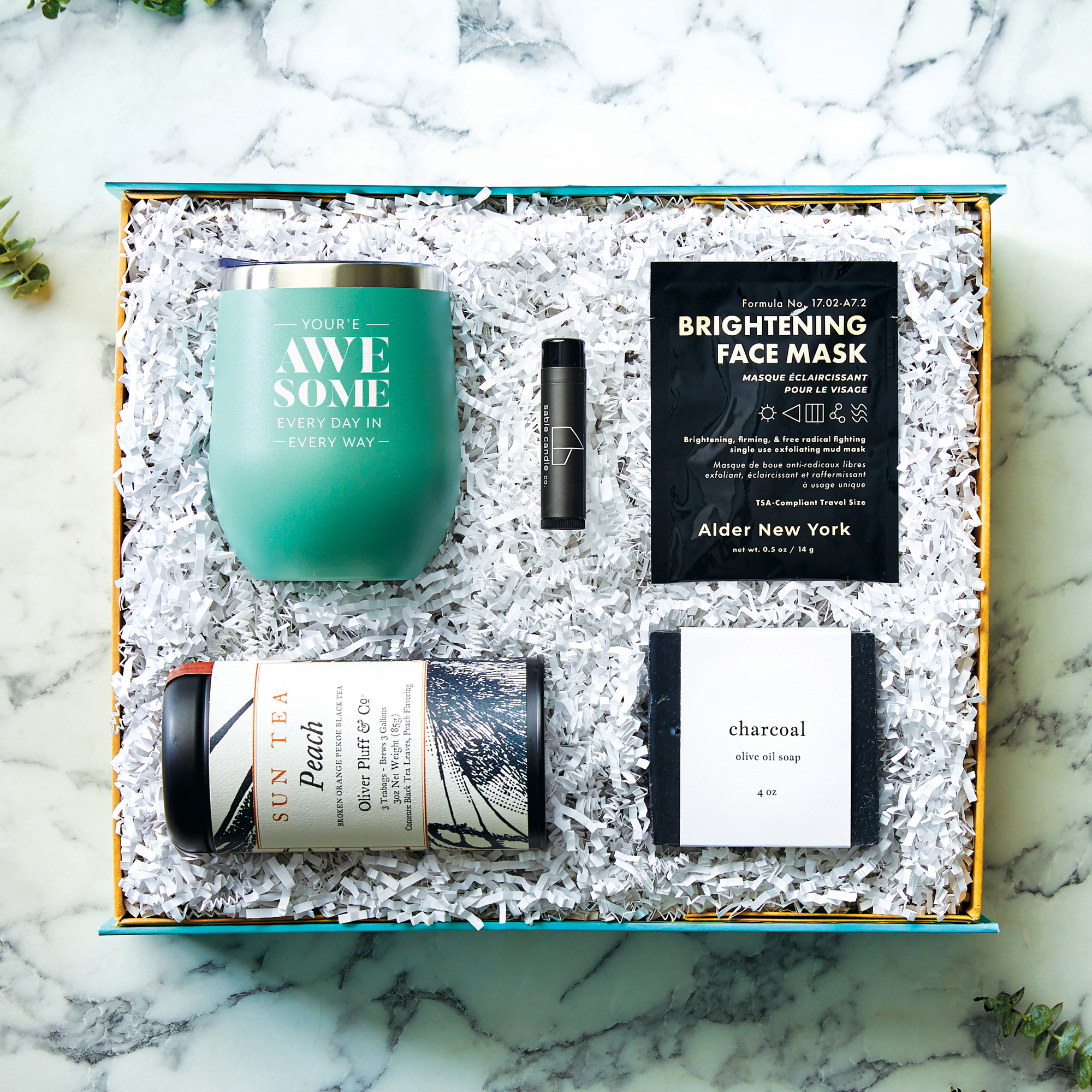 Think your client needs a boost? This "Luxe Tech" kit is a perfect client gift if you're a tech company. You can even personalize the tumbler by adding their name to it! As they charge their devices and snack on the gourmet gummies, all that positive energy will head back in your direction. Order this kit by 3 pm EST and it ships same day!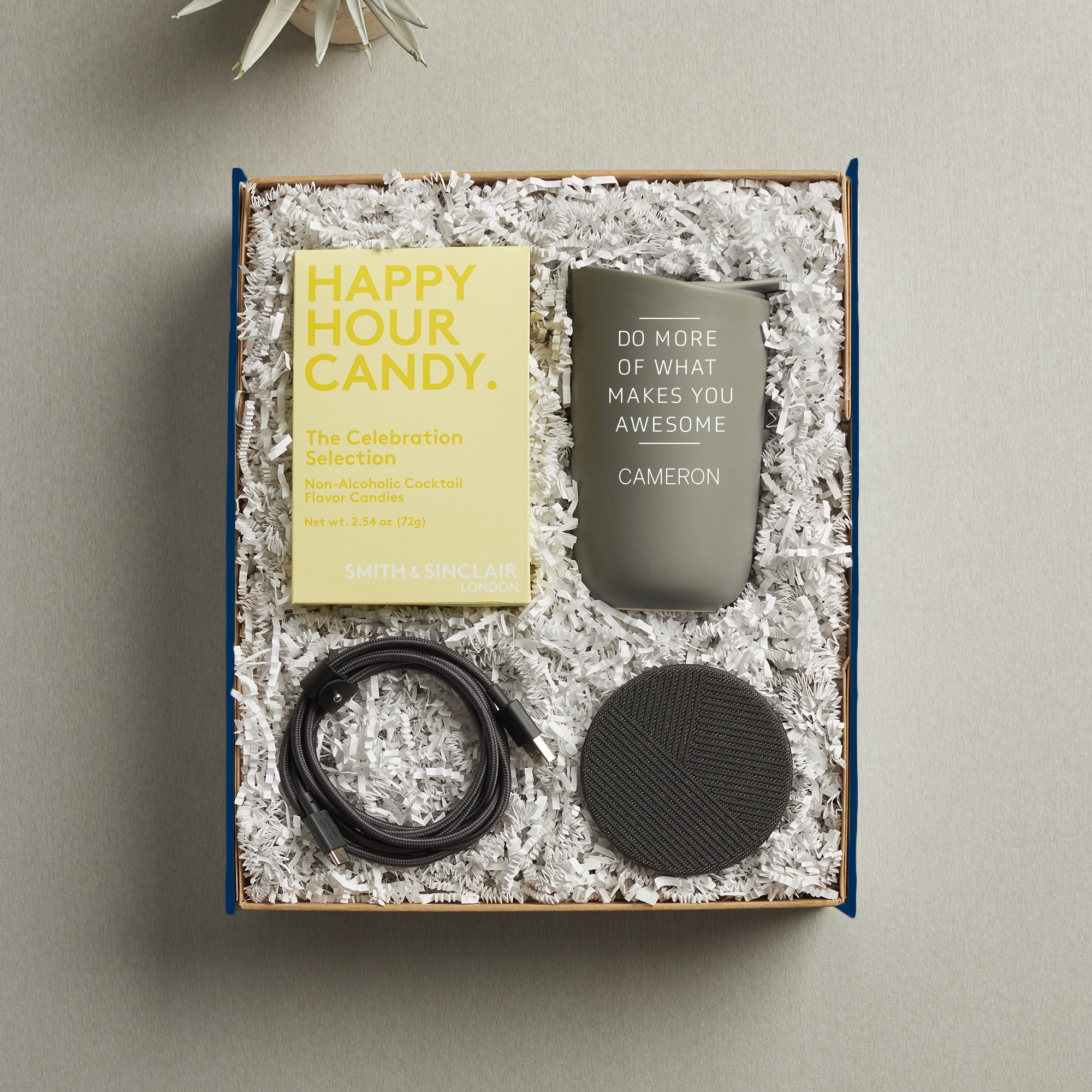 Gifts That Keep Working Hard for You
Aside from sincerely showing appreciation, client gifts are about keeping your business in your customers' minds. Here are a few additional options that are sure to delight and keep them coming back for more:
Bring a perfect morning right to their front door! With all they need to whip up a comforting, tasty breakfast, your client will appreciate this "Perfect Morning" kit just as much as you appreciate them.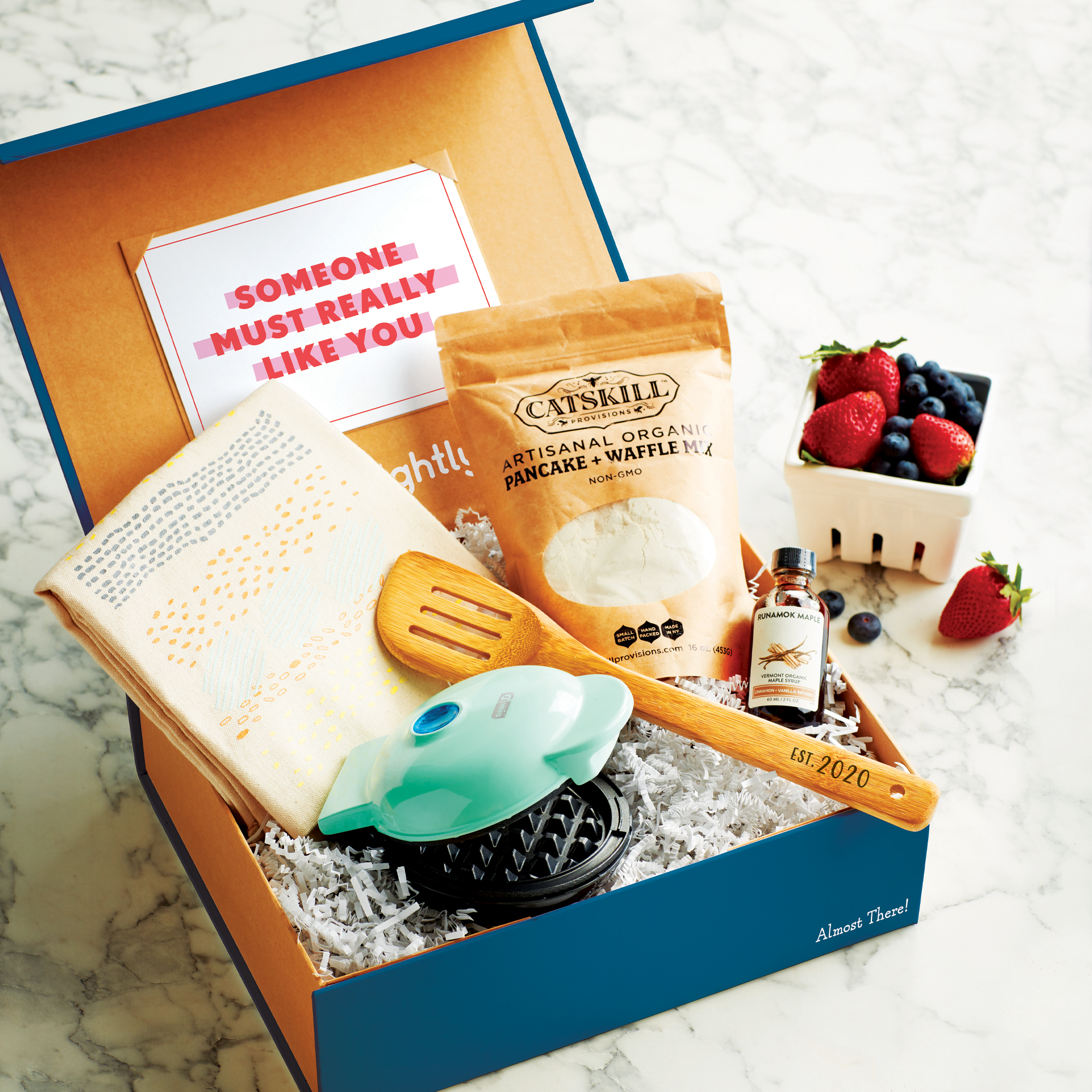 Our "Thanks + Gratitude" kit is overflowing with the appreciation your clients deserve. Perfectly packaged, this kit comes with a durable tote, journal, candle, and personalized, exclusive mint mason jar plant. Sowing the seeds of gratitude has never been easier!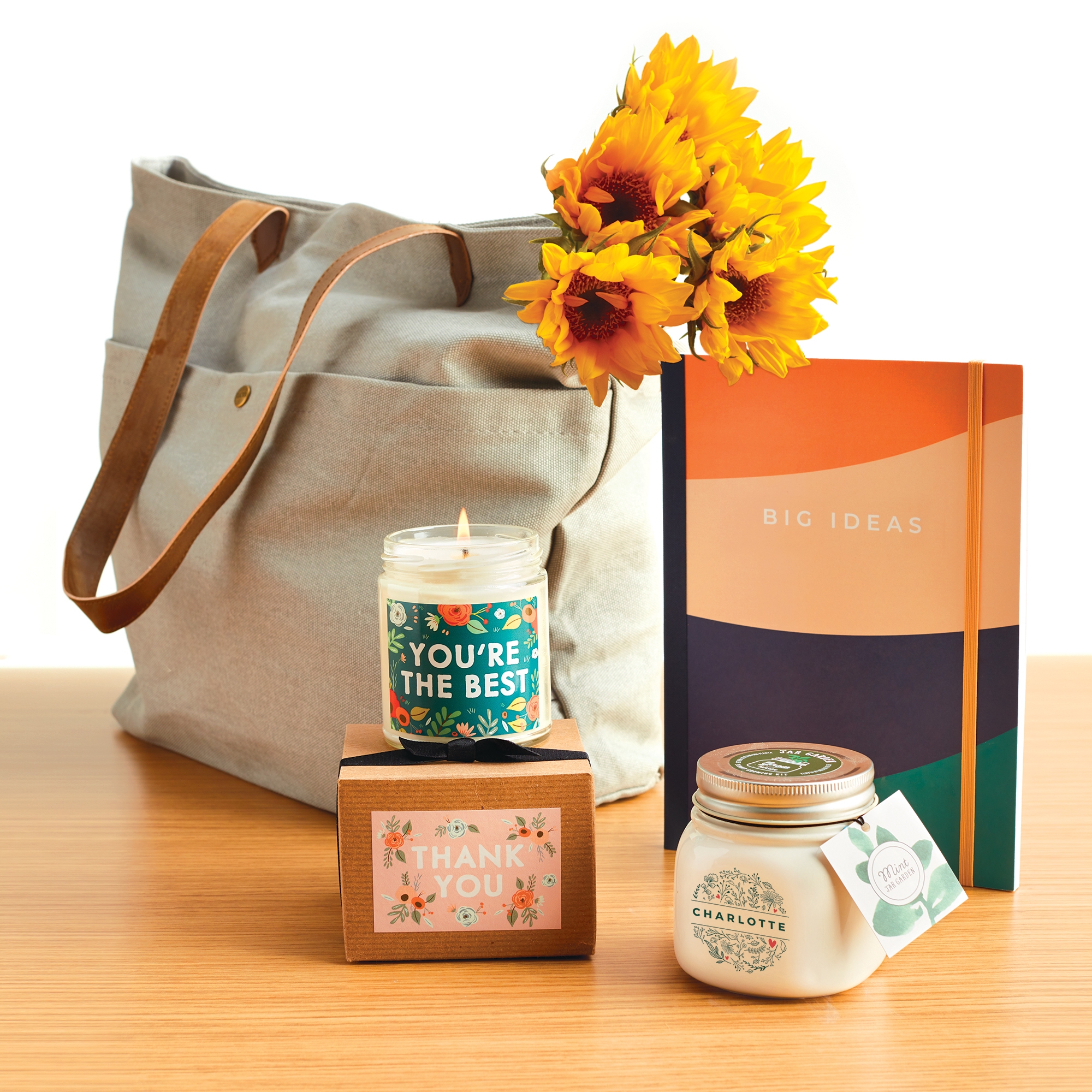 Whiskey lovers behold—the "Old Fashioned Good Time" kit is quite dapper and smartly assembled for that client who loves a well-dressed drink. They'll remember you each time they pull out the Viski Rolling Crystal Whiskey Tumblers and craft their favorite cocktail.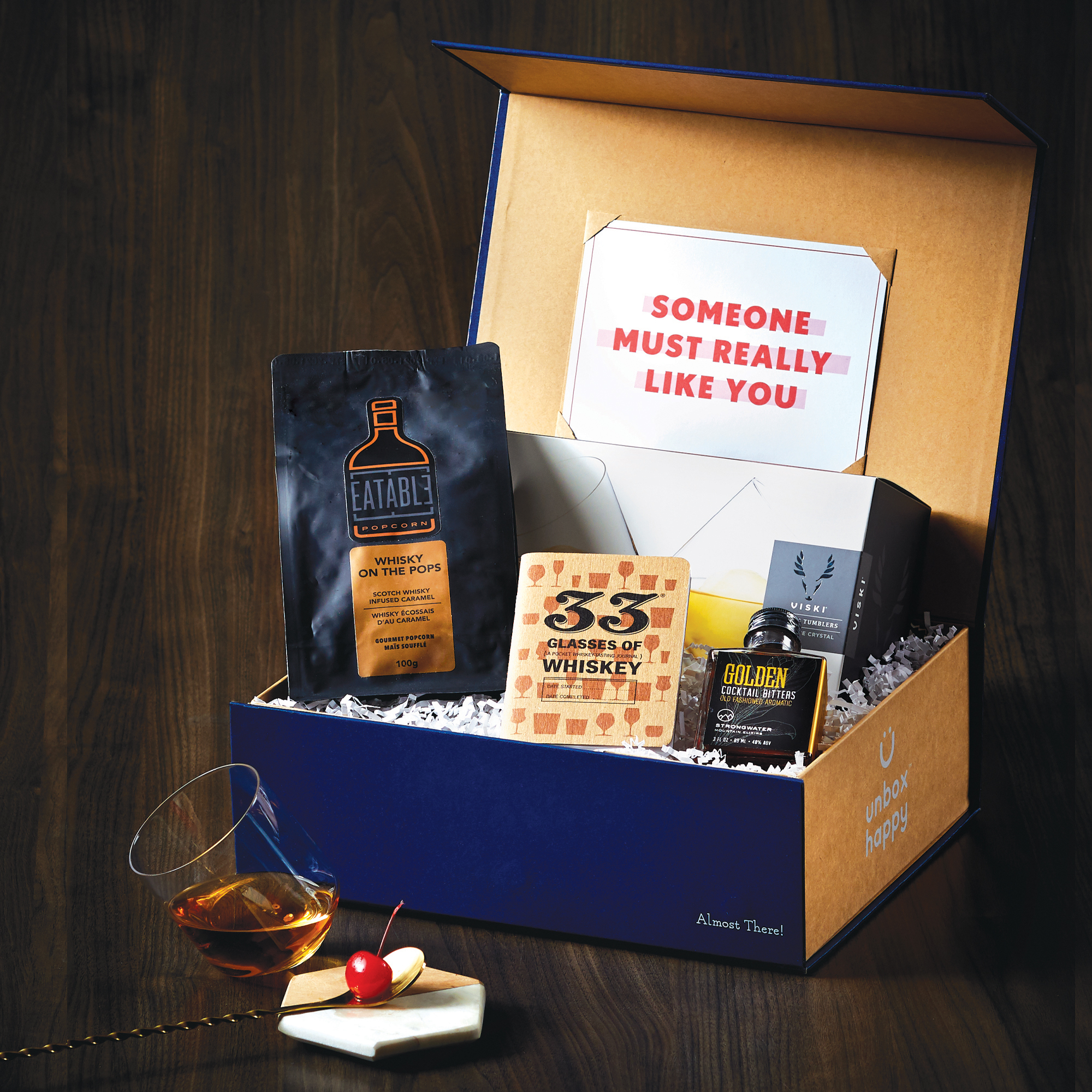 We're so excited to help you find just the right client gift to compliment your business. Reach out to us for more memorable ideas at 1.800.728.0888 or email us here.