June's Show Us What You've Got Facebook contest has come to an end. The winner of $500 in prizes is (drumroll please) Karla Navarro from DCFS of Nevada!

Karla entered her team with a heartwarming Facebook entry. She and her team give our Shout Outs™ to young adults in foster care so they can recognize and praise each other. They had a 2-day meeting with these young adults and the board was full of Shout Outs™ that they had written to each other; even the back was covered!

The point of this competition is not only to give some of our fans a chance to win some great prizes, but for us to see how our products are being used. This is something we haven't seen before, but we love the creativity and love that our products can be used for something so meaningful!

Now, for the fun part: what do they win? Karla's entry earned her team $250 in Baudville bucks to be used for more Shout Outs™ and gifts for the young adults in foster care to keep encouraging them to do great things. Karla and her team will also be receiving a $250 Target gift card to help them stock up on some supplies they need for the children at their organization!

Enjoy your Baudville swag and your Target gift card, Karla! We hope it helps keep the positive mojo flowing at DCFS! Congratulations and thank you for being a part of our competition!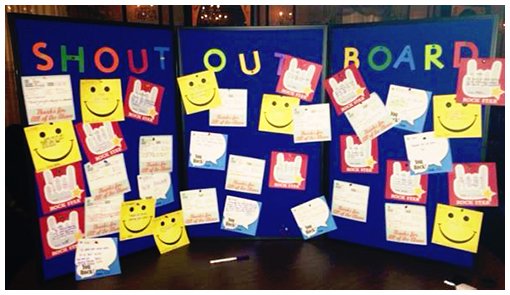 --------------------------

Krista is the 'ville's Web Marketing Coordinator. She came to us in 2012 as part of our stellar Sales team. Using her experience with Baudville customers, she helps create an online experience we're sure you will enjoy! Being the chatterbox she is, she truly misses talking with all of you so don't be shy and drop her a line!