Customer service can sometimes be a thankless job that others don't understand. But customer service reps (CSRs) love helping people, and we admire them for it. In honor of Customer Service Week in October, we're sharing our love for CSRs everywhere with a fun little meme and our interpretations.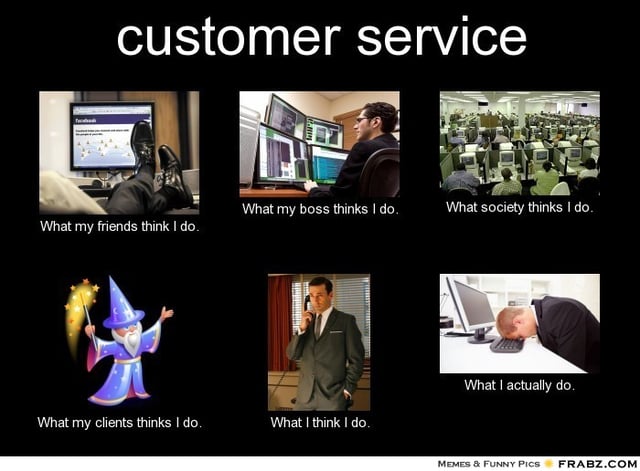 What my friends think I do.
No assignments, deadlines, and due dates? Wow, you must sit around all day and get paid to scroll on social media!
NOT.
You have sales goals to hit (and exceed!). You diligently take calls your whole shift, asking customers if there's anything else you can do for them. Time for social media? Out of the question!
What my boss thinks I do.
Your boss thinks you're the ultimate multi-tasker capable of just about anything. You have every qualification and skill you need to do the job, so you don't need virtually any training. Plus, you'll always meet your sales goals. You'll never fail.
WRONG.
You need training and coaching just like the rest of us. Because, even though we don't like admitting it, no one's perfect. You may fail, but you also get right back up again. And that's what we love about you.
"When I first started, I found everyone so friendly. Management and co-workers did not give up on me and worked really hard to polish my customer service skills. I felt so much support and it gave me the drive to accomplish my goals."
–Denise D., Customer Service Rock Star for 6 years
What society thinks I do.
There are two customer extremes, and this image represents the first. They see you as a means to an end, rather than a living human being on the other end of the phone. They think you exist to make their life 10,000 times harder. And God forbid you put them on hold!
"Sometimes working with irate customers can be a bit challenging."
–Denise D.
It's customers like these who give call centers a bad rap.
But we know it's not true…
What my clients think I do.
…because this is the flip side. This image represents those customers who know you try your best to meet their needs. You may not be a wizard, but you sure come close.
"What I enjoy most about my role is watching my reps succeed, as well as making the customer happy and hearing the great feedback about how much they loved working with us or how great we made their event."
-Hannah Padnos, Sales Manager
What I think I do.
You are awesome, and you know it. You're confident in your ability to handle people and address their concerns. You're calm, cool, and collected—treating every call as if it was your first call.
"A great customer service rep is someone who's passionate about making someone else's day a little bit better."
–Amy Z., Human Resources Manager
What I actually do.
Ok, so this image might be a little dramatic, but you get the point. While we hope that you have only great customers, we know that you sometimes get tough calls. And that can be hard.
But keep your chin up, friend. You're a customer service rock star, and awesome is what you do. Your super power is outstanding service, and your customers think you're kind of a big deal.
Thanks for making a difference.
A Note for the Managers
Don't forget to share the love with your reps during Customer Service Week on October 2–6! Check out a few ideas on our blog: