Customer Service Week is October 4-8 (only 23 days away!), and this is an important week to recognize and acknowledge your customer service team. Your customer service team has a crucial role in the customer experience, and it's important that they feel valued and appreciated.
Customer service employees are often referred to as the face of a business. They have the greatest impact on customer satisfaction and retention. Industry reports have shown a direct link between employee satisfaction and customer satisfaction, and between customer satisfaction and improved financial performance.
At Baudville, we make a big deal out of Customer Service Week. The entire company is included in the week-long celebration because we believe each department plays an important part in the customer experience. Customer Service Week is a piece of our recognition and retention strategy, and we think you should consider celebrating it, too.
Get ideas for Customer Service Week next Thursday in my new Recognition TV Webisode . I'll be sharing ideas from past Customer Service Week celebrations and stories from some of our favorite Customer Service Week memories. This is also a great time to ask questions about Customer Service Week and get ideas from other attendees by participating in our live chat.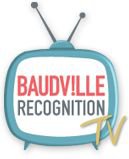 --------------------------
Cori is Baudville's in-house Recognitionista (she's officially a Certified Recognition Professional, too) and a member of the Millennial generation. Get her employee recognition tips and special discounts by liking Baudville on Facebook.