At Baudville, we believe every member of our team contributes to our customers' positive experience with the company. Whether it's in Customer Service, Distribution, Purchasing, Marketing, or any other department, we all strive to perform for our customers every day.
So when Customer Service Week rolls around, the entire company joins in the festivities! (This year Customer Service Week is October 3-7!) A team of employees, our Spirit Team, plans a week of activities to celebrate our dedication to excellent customer service. Everyone partakes in games, themed dress up days, and a team lunch. Employees are typically treated to a gift, too, and our Twist Top Tumblers have become a staff favorite!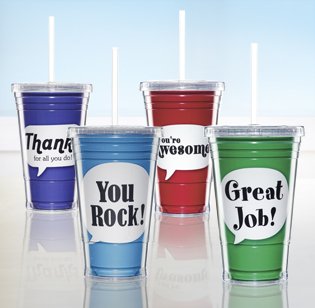 Twist Top Tumblers will be a hit with your employees for Customer Service Week!
Our Spirit Team has come up with some pretty creative Customer Service Week themes in the past. If you're planning on celebrating Customer Service Week this year, consider using one of our previous themes – they were a big hit with our team!
 Hollywood Stars. Give your team the red carpet treatment – literally! When we used this theme, we exchanged our ordinary black runners for bright red carpets. We also created our own Wall of Fame by creating a unique gold star for every employee. During the week, employees were treated to glamour shots and a sundae bar with ice cream scooped by our executives. We always give our employees a gift during Customer Service Week, and our Star Performer theme has some great items to choose from!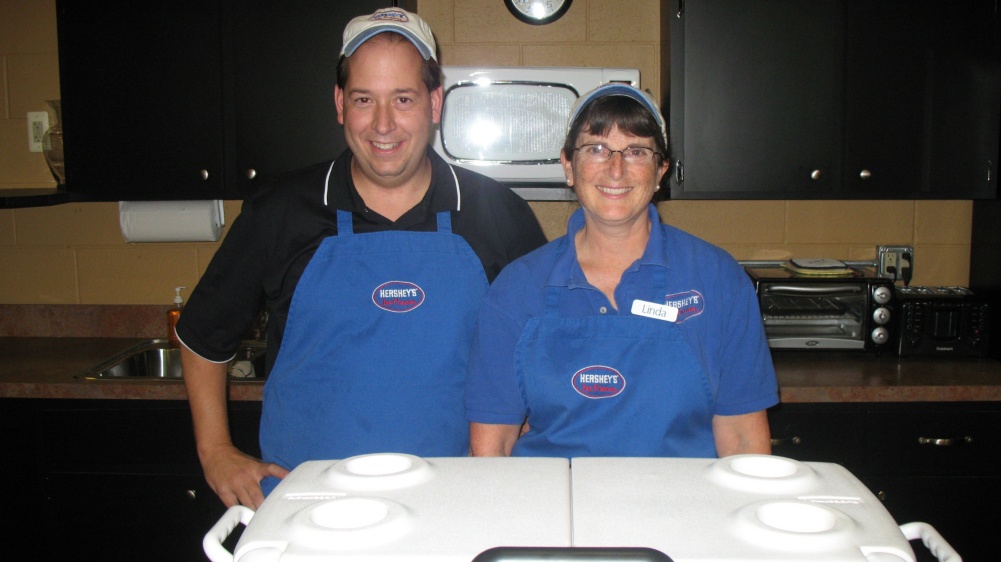 David, CFO, serving ice cream sundaes to employees.

 Spirit Week. The Spirit Team out-did themselves one year by assigning a different theme to each day of Spirit Week. We had Decade, Rock Star, Sport, Super Hero, and Baudville Spirit days. Each day, employees were encouraged to dress according to the theme and participate in activities. On Rock Star Day, we played the video game Rockband during lunch. During Sports Day, we were challenged with a quiz and entered to win tickets to a sporting event. Create your own Spirit Days and coordinating activities!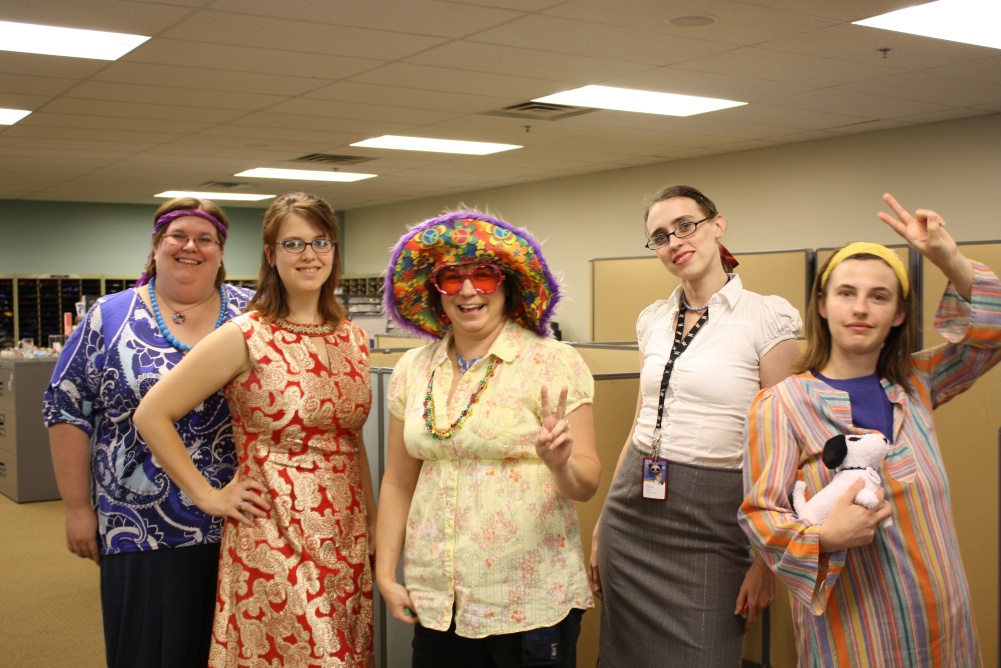 Celebrating Decades Day during Customer Service Week!
 It's Fall Y'All! Last year we got in the spirit of fall and celebrated the changing of the seasons during Customer Service Week. To go along with our theme, we had a pumpkin carving contest involving all departments and enjoyed apple cider and donuts for breakfast. The Spirit Team even created exclusive fall Shout Outs for employees to use during the week.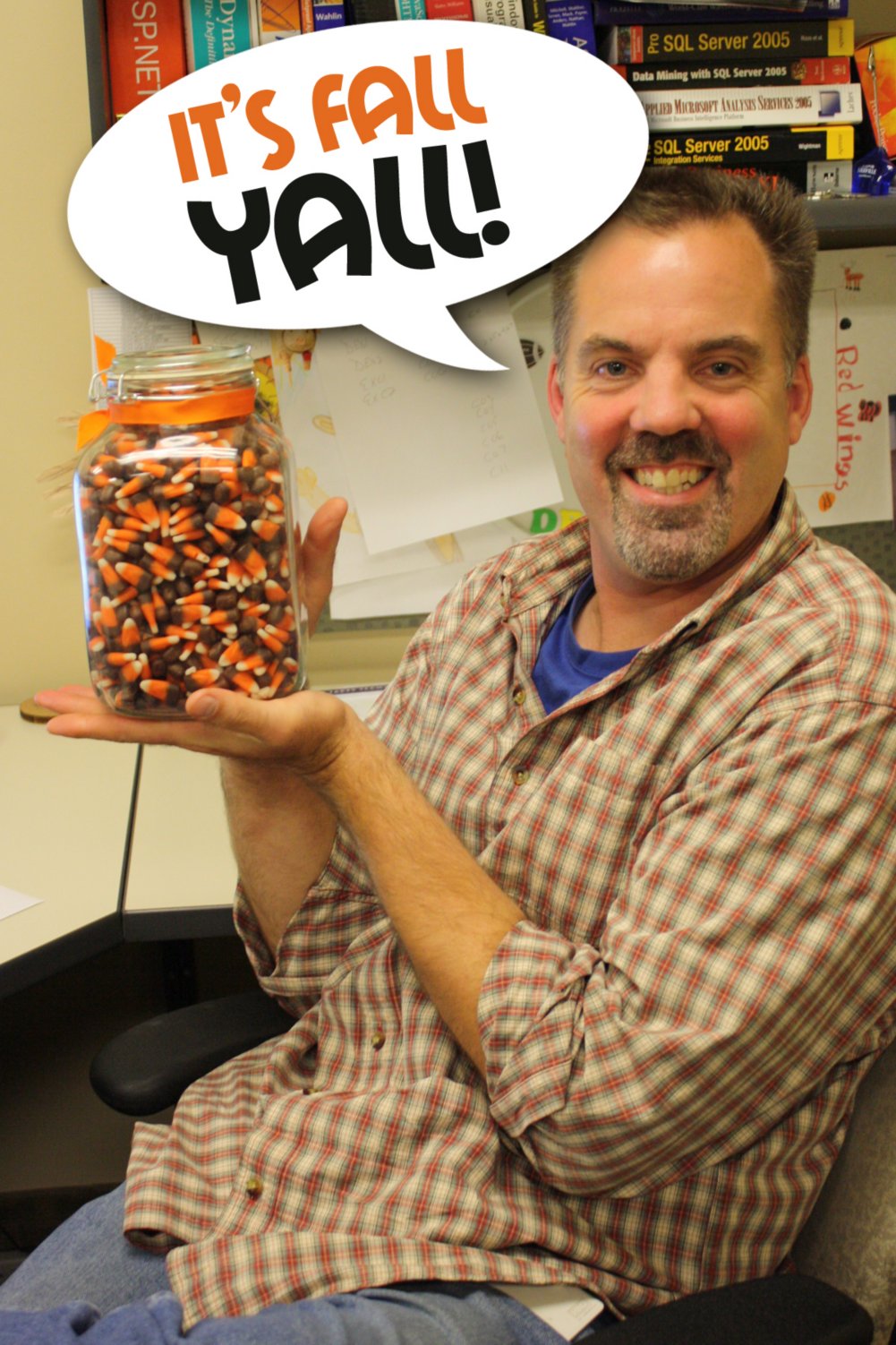 The proud winner of the candy corn counting game!

---------------
Cori is Baudville's in-house Recognitionista (she's officially a Certified Recognition Professional, too) and a member of the Millennial generation. Get her employee recognition tips and special discounts by liking
Baudville on Facebook
.