Day-to-day recognition is defined as the genuine everyday expressions of appreciation given to reinforce and reward positive behaviors. Although each dimension of recognition (day-to-day, informal, and formal) is important, day-to-day recognition occurs most often and has the greatest ability to impact employee performance. In this series, we'll explain how day-to-day recognition can help you create a great place to work, establishing higher levels of employee motivation, engagement, and retention.
Do it to Engage
A disengaged workforce can be one of the most costly problems for organizations. Paying people to give less than their best is never a good idea. Whether you're staring a disengaged team in the face, or want to prevent this from ever becoming one of your daily struggles as a leader, day-to-day recognition is an effective way to improve employee engagement.
Employee engagement is three-pronged: how satisfied are your employees with their job, do they believe their work is meaningful, and are they dedicated to you as an employer? If it sounds like a lot of fluff to you, listen to this: Companies with higher employee engagement yield higher sales, higher productivity, and higher retention rate than companies with low employee engagement. In the United States alone, disengaged employees cost the economy $300 billion a year!
Now that I've got your attention, let me tell you how day-to-day recognition is here to help. A 2007 study by Watson Wyatt found that rewards and communication are important engagement drivers for all generations in the workplace (I know you were thinking this was a "Millennial Problem"). Regardless of age, the Society of Human Resource Management (SHRM) has found that individuals with higher engagement are "more likely to go the extra mile and deliver excellent on-the-job performance."
At the very core of recognition are three simple rules: do it frequently, do it sincerely, and do it on time. Starting with day-to-day recognition is a great way to reel your disengaged employees back in. More than likely, they are feeling underappreciated and that has led to frustration and withdraw. Before you cut bait, remember the reason you hired this employee on in the first place and look for a reason to celebrate their work.
Day-to-day recognition can be as simple as an email stating your appreciation for something specific (and tied to your core values) that your employee did. Go a step further and handwrite the note in a Pocket Praise or notecard. It doesn't have to cost you a thing!
Start fishing for reasons to recognize your team members today and you'll notice morale, productivity, and engagement start to soar!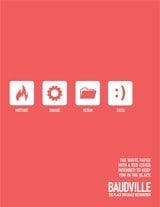 Want to learn more about Day-to-Day Recognition? Follow our "Do It" blog series or download our free Day-to-Day Recognition White Paper.