Day-to-day recognition is defined as the genuine everyday expressions of appreciation given to reinforce and reward positive behaviors. Although each dimension of recognition (day-to-day, informal, and formal) is important, day-to-day recognition occurs most often and has the greatest ability to impact employee performance. In this series, we'll explain how day-to-day recognition can help you create a great place to work, establishing higher levels of employee motivation, engagement, and retention.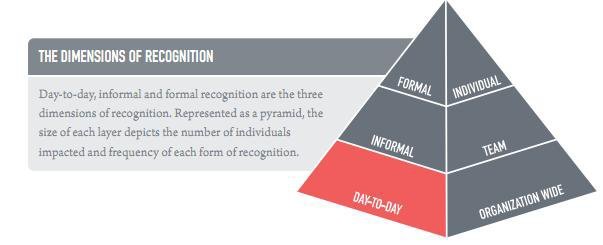 Do It to Motivate
Do you want your employees to want to do a good job for our company? Of course you do! Do you want them to take the initiative to improve the process, take care of the customer, or make the sale? Absolutely! While self-motivators are superlative, unfortunately, not all of the working world is wired that way. Our teams need motivation. And contrary to popular belief, motivation does not always equal money.
When employees were asked by Watson Wyatt to identify "very significant" motivators of performance, 66% of respondents answered "appreciation" as opposed to only 15% who reported financial reward. Because an expression of appreciation is 4 times more impactful than financial rewards, organizations can achieve business goals on tighter budgets by using appreciation to motivate staff. Good news!
So how does this so-called "appreciation" take shape, and how can you make it work for your company? Behavioral psychologists have found positive reinforcement to be the most effective way to reinforce a specific behavior. In very simple terms, if you see something good happen, acknowledge it and it is more likely to happen again. Say thank you, or great job, or you made my day, or I appreciate your extra efforts; give someone a high five or a pat on the back. It really doesn't take much for your employees to get the feeling that you see them and you appreciate them. And once that feeling is put into place and nurtured, you will notice your team's performance on the rise.
Help your managers get the hang of daily recognition with our 30-Day Recognition Missions! Choose the right level for your management staff.
Like Jack Welch, former President and CEO of GE said, "When an individual does something notable, make a big deal about it."
The use of genuine everyday expressions of appreciation communicates to employees what behaviors the company values. The positive reinforcement motivates individuals to continue practicing those behaviors, leading to improved individual and company performance.
So get up, take a walk around your department, and start commenting on the things you'd like to see your staff do every day. If you set the example and walk the talk, you'll be amazed at how quickly you'll begin to reap the rewards.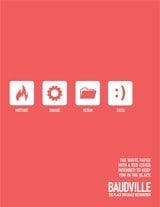 Want to learn more about Day-to-Day Recognition? Follow our "Do It" blog series or download our free Day-to-Day Recognition Whitepaper.
Click here for even more great Day-to-Day Recognition tools and ideas.