At Baudville, we've been preparing for the 2014 SHRM Annual Conference & Exposition for the last several months. Now, here it is less than a week away and many of us are breathing a collective sigh of relief knowing the only thing left to do really is show up. Show up and WOW the socks off everyone who visits us at Booth 1379, that is!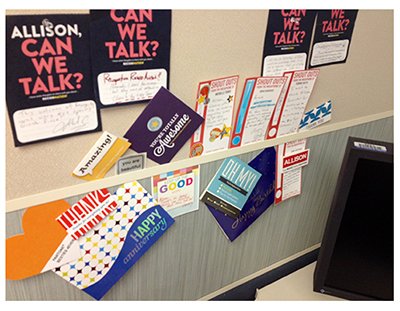 Our expert booth staff will be talking about career moments, and the one I think is going to be the most fun is day-to-day recognition. Why? Because it can happen to anyone at any time for any reason—and it's really all these little moments that make our working lives meaningful. Sure, some of us will have milestone anniversaries, or award-winning moments, or proud achievements, but ALL of us have the potential to be acknowledged for our everyday wins. This, I like a lot!
So, of course, I was most excited to talk to the Baudville staff about daily recognition they've received and this is what they said:
"A verbal 'Thank You, you did a great job today' always makes me want to do better the next day. It is nice to hear 'you are appreciated!'"
-Marilyn, Distribution Center Picker
"My boss is very good at getting personal with her team, so she listens to what we like and will surprise us at any given moment! I'll get to my desk after lunch or a meeting and she'll have left a favorite treat on my desk—sometimes for no specific reason and sometimes to say thank you. It's a great day booster and definitely puts a smile on my face!"
-Kimberley, Website Manager
"Getting a thank you note for staying late, or a high five for doing a great job, or a Shout Out from one of my peers are such important reminders that what I do on a day-to-day basis makes a difference. I always post up my notes in my cube so that I never forget that I am appreciated for what I do."
-Allison, Copywriter
(Yes, that's me in the above quote. I really wanted to contribute a quote to this series, and since I'm in charge of it, it was pretty easy to get it in. Ha!)
But, wow, what an impact day-to-day recognition makes, huh? And to think: many companies don't practice it at all. That seems to me to be a colossal mountain of missed opportunities—to brighten a day, to give words of encouragement, to high five a small victory... all in the name of making ordinary days (you know, the kind most of us have most of the time) extraordinary!
If you're going to SHRM in Orlando, stop by and talk to us! If you're not, check out these resources for making day-to-day recognition a part of your days:
--------------------------

Allison is a self-proclaimed Copywriting Diva and has the certificate to prove it! She's been writing for Baudville for five years and has worked in a variety of business settings for 20 years. Before becoming a professional writer 13 years ago, Allison worked as a department manager where she used Baudville products to motivate her team. She's what we call a true believer!