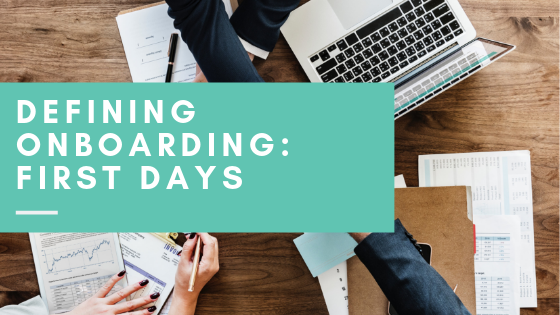 You've probably heard of the term onboarding and if you haven't, you need to! Learn the basics here. Onboarding is essentially the process of implementing new hires and talent into your organization and team.
There are five stages of the onboarding process. Earlier this month we talked about pre-boarding, the first step of onboarding. Today, we'll talk about first days.
Yay for first days!

Why First Days Matter
First impressions always matter. They matter on first dates, they matter in interviews, and they matter on first days of work. In this case however, it's the company that needs to make a good first impression on the new hire.
SHRM reported that 40% of people that quit in 2017 did so within one year of being hired, and half of them quit before their 90-day mark.
Though there are many reasons why employees leave an organization, it's been found that poor onboarding contributes heavily to employees looking for new jobs.
"A negative onboarding experience results in new hires being 2x more likely to look for other opportunities." – Sapling HR
Effective onboarding starts with a great first day.
First Day Checklist
Trying to make a good first impression with your new hires can be intimidating. What makes a good first day at their new job? Here are a few things to do on your new hire's first day to guarantee you nail that first impression:
Orientation – have a solid new employee orientation to cover policies, paperwork, and procedures.
Office tour – show your new hire around so they don't feel lost or unsure when they venture on their own.
Team and department introductions – the office tour is a great time to stop at different departments to get in a few quick introductions in.
Icebreaker – yes, they're awkward and cheesy, but they're effective. Use one of our Actually Fun Icebreaker Games to get to know your new hires!
First day gifts – welcome new team members with a gift that shows you're excited for them to be on the team.
First Day Schedule
Most likely, their first day will be busy, which is a good thing! It will be helpful to hand them a first day (and first week) schedule that lists out when and what they'll be doing so they know what to expect. This can be given to your new hire(s) at orientation. Here's an example of what your schedule could look like: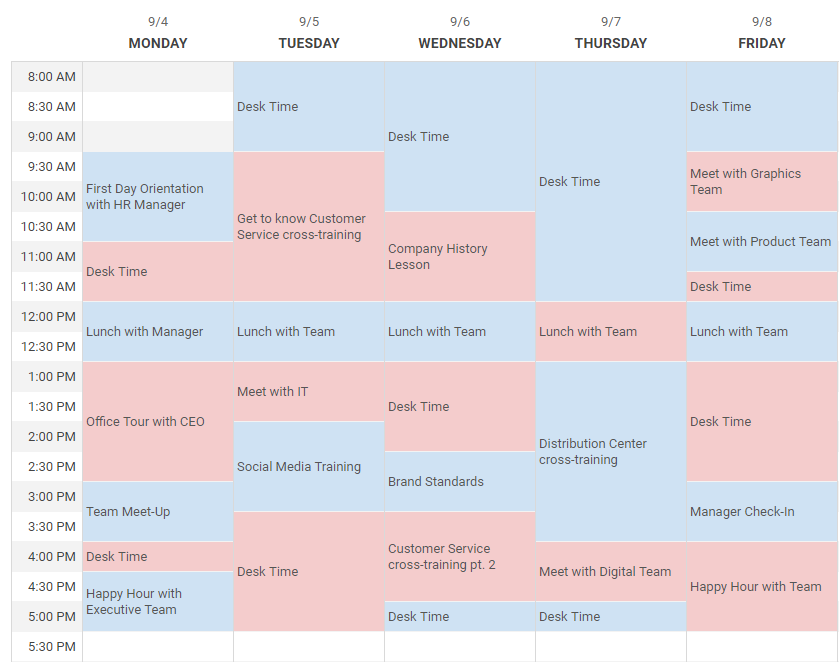 First Day Gift Ideas
Here are a few of our favorite first day gifts to help you give a warm welcome to new employees.
Let us help you create an onboarding experience that turns your new hires into lasting employees. Contact us for more info.