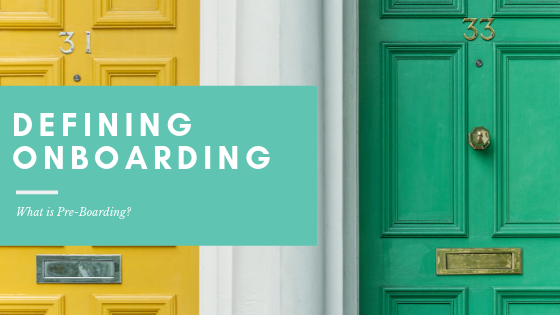 Onboarding is the process in which you hire new employees and implement them into your organization. To retain new hires, it's important to spend time onboarding them, according to the Harvard Business Review.
Many people think of onboarding as the new employee orientation, but it is so much more than that. Onboarding is comprised of different activities and opportunities with different check points along the new hires' onboarding journey.
To help clarify what each onboarding stage is, we're breaking down onboarding and defining each section. Let's begin with pre-boarding.
What is Pre-Boarding?
Pre-boarding is when you start to spark buzz around the new hire's role before they even walk through the company's front doors on their first day. An extension of the employee onboarding process; it's before onboarding really begins.
If the onboarding process was a five-course meal, pre-boarding would be the yummy nacho appetizer that gives you a peek at what's to come!
Soooo cheesy! Okay, I'm hungry now. Is anyone else drooling?
Why is Pre-boarding Important?
What about Bob, I mean what pre-boarding? Why should you care or put the effort into making your new hire feel welcome before they even start their first day? Here's why – your new hire may still be on the fence about making a career change. They may have gone back to their current employer and used your offer as leverage. Maybe they're not sure if the risk is worth the reward.
That's where pre-boarding comes in. A gift, a "yay we're excited for you" email, a handwritten note in their mailbox are all reminders that you can't wait for them to be on your team. Plus, your new hire will be that much more excited to start working at your company!
It's also an opportunity for you to showcase your brand and company culture. A little taste of who you are and what they're about to become a part of. Let them feel like they are already a part of the tribe.
With job opportunities aplenty, a structured onboarding process (that includes pre-boarding!) is necessary. It's worth the investment and efforts.
Great employee onboarding can improve employee retention by 82% - Sapling HR

It can cost a business 6 to 9 months' salary to replace a salaried employee – PeopleKeep
Pre-boarding Gift Ideas
A gift sent straight to their door is the ultimate onboarding surprise. Be prepared to get messages of thanks, matched excitement, and happy dances!
Let us help you create an onboarding experience that turns your new hires into lasting employees. Contact us for more info.